This week we took a big step for Easy Weaving with Little Looms and our amazing small-loom community by adding a new All Access program. But before we get into all that, here's how we got to this point.
Since day one, we've aimed to provide premium content, projects, and ideas to small-loom weavers. From its beginnings as an annual special issue to creating the website and a Little Looms community, we've continued to look for ways to provide the best to this fantastic group of weavers.
With a new All Access subscription, small-loom weavers can get even more of the weaving they love all in one place. We hope to continue becoming your destination for small-loom weaving ideas, learning, and community. We've only just begun, but here's more about all the exciting additions launched this week for All Access.
Searchable Libary of Patterns
When we last counted, there were more than 250 patterns that had been published in issues of Little Looms. We wanted to make it easy to find that perfect pattern and browse through them all in an easy, visual way. With the pattern library, you can search the backlog or set filters using the options on the left. Try selecting by weaving category or technique and even project type (there are already more than 100 scarves in the collection).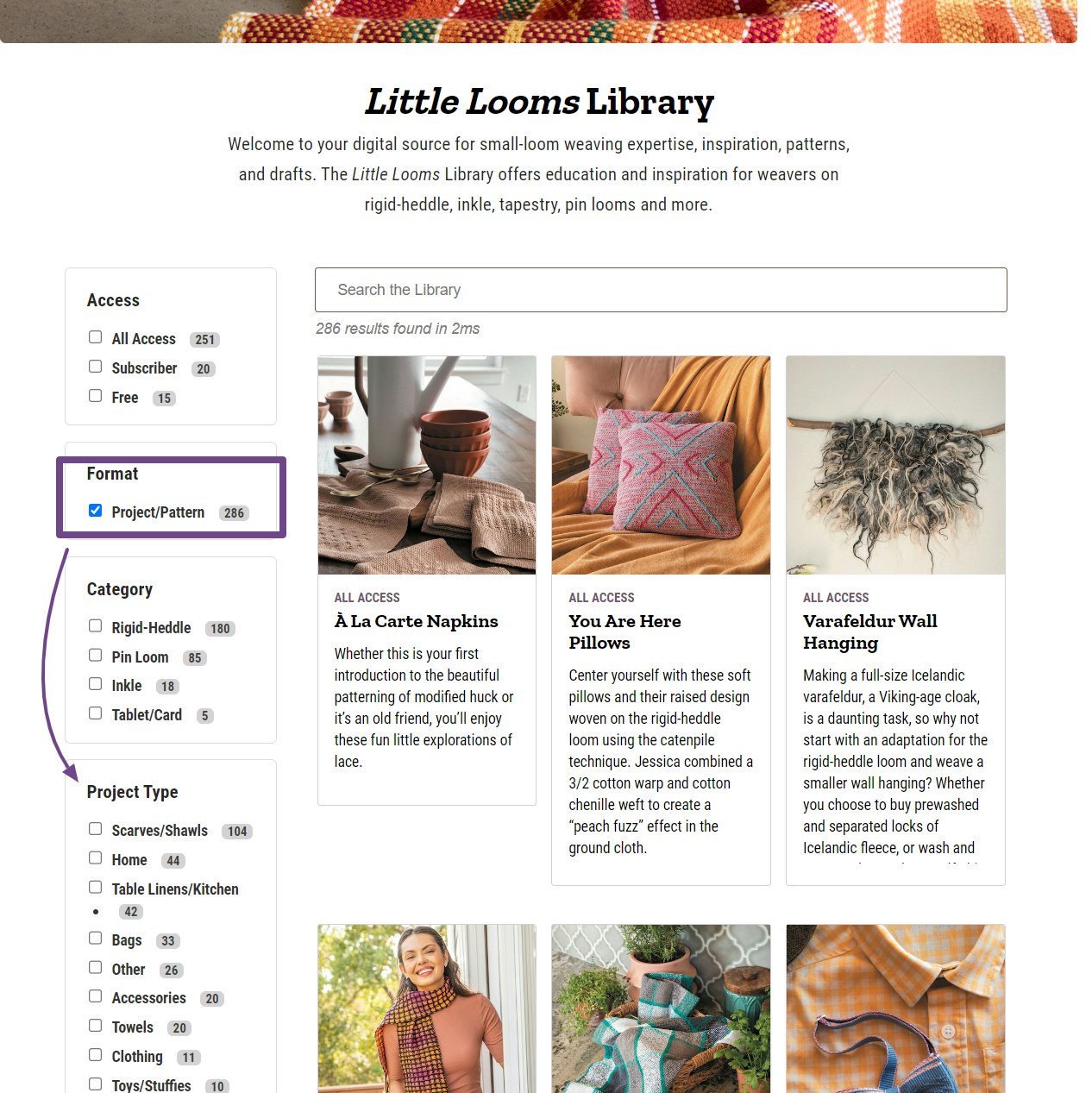 How to access: Visit the Little Looms website and click on Library in the top navigation bar to start exploring. For help with how to get logged into the website and the library, check out this Help Center article.
A fun little tip: Use the collection section in the filters on the left side of the screen to see all the available patterns for an issue.
The Little Looms Library now has three access levels to explore: free, Little Looms subscriber exclusive, and All Access. No matter what level you're at, we're happy you're here!
eBooks and Digital Issues
To provide even more out of All Access, we've included digital editions of every past issue of Easy Weaving with Little Looms in the Library. Current magazine subscribers and All Access subscribers can access them on the website (as well as on Zinio).
As an added bonus, along with those issues, eight eBooks that were previously only available in the shop are now available in the Library, too. When you are looking for serious inspiration, the Library is your perfect place to turn to for ideas.
How to access: Visit the Little Looms website, click on Library in the navigation, and use the Format section to narrow selections to magazines or eBooks.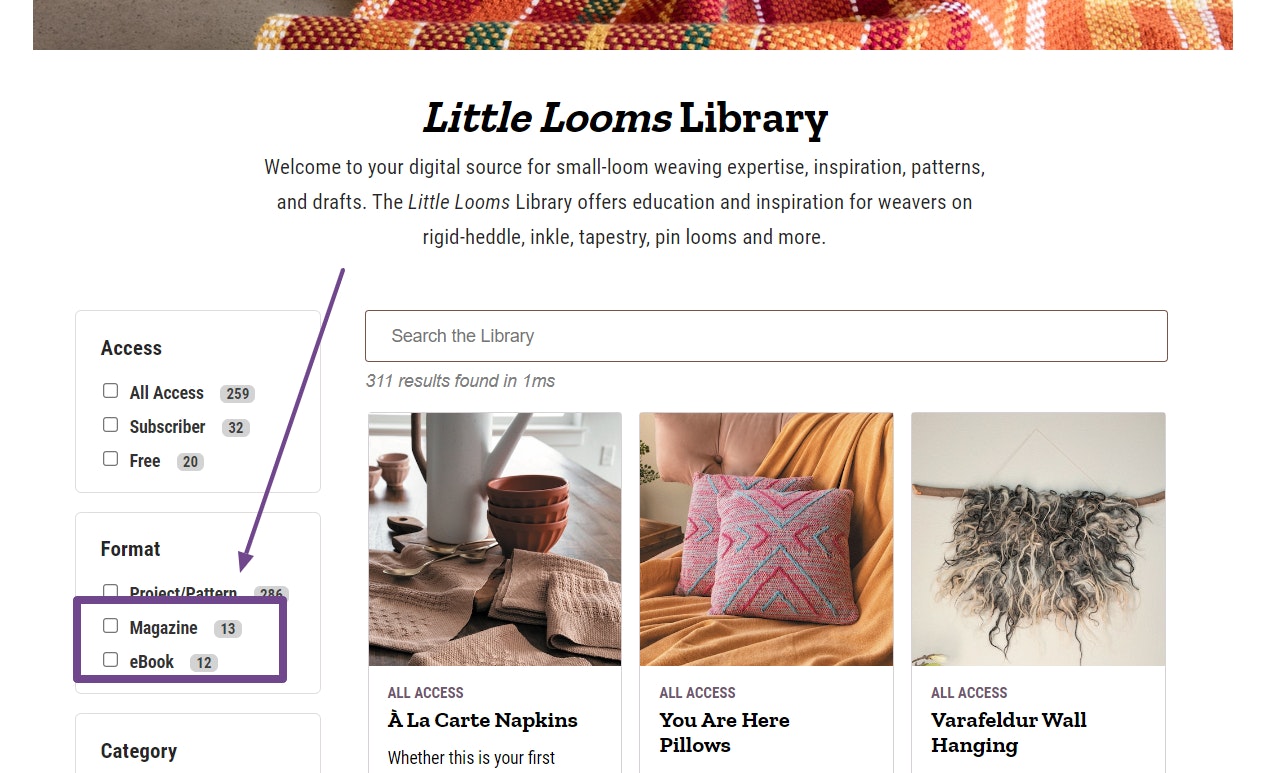 23 Videos and Counting
All Access members can instantly view every small-loom-friendly video on our streaming platform as part of their subscription. Along with the current library of videos, you'll get new exclusive courses, including the new video Twill on the Rigid-Heddle Loom, which launched this week.
How to access: To browse the courses included with All Access, visit learn.longthreadmedia.com and click Little Looms in the top navigation. For assistance logging into the streaming video website, see this Help Center article.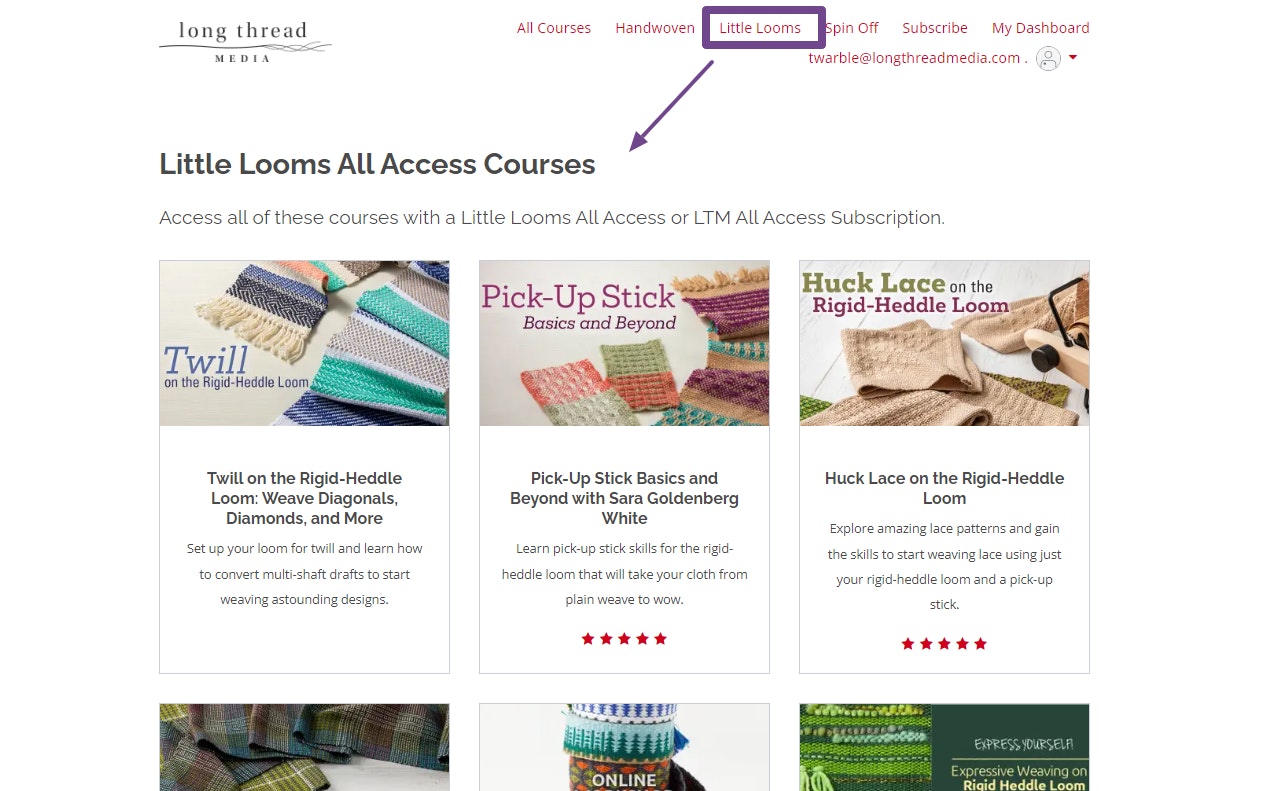 Skill Guides
What we're most excited about, though, are our expertly curated skill guides that we'll be sending out to All Access subscribers every 2 weeks. Each guide will pull together the best resources about a topic, including tutorials, tips & tricks, inspirational articles, and maybe even a project or two. All these guides are designed to help you learn a new technique or brush up on your skills. We'll send the guides out to you by email and have them available on the website so you can go back later and find the one that fits your current needs.
All that is just the beginning.
We also have exclusive projects, articles, and other goodies planned for members in the coming months, and we hope you can join us! And if you can't do so yet, rest assured that our other subscription tiers will keep all the same great perks they've always had.
Happy weaving!
~ Little Looms Team