A DESIGNER FROM THE LOOM UP
John Mullarkey has been bending and twisting fiber since learning macramé in highschool and crochet in college. Years later, he was given15 pounds of llama fleece and reasoned that investing in a spinning wheel would yield lots of nice, cheap yarn. While the llama yarn proved not as nice as he hoped, he enjoyed the spinning.
Having bought the spinning wheel, John looked around for an inexpensive way to give weaving a try and spotted weaving cards (or tablets, as they are officially known). Luckily for the students who fill his workshops and fans who read his books and watch his videos, card weaving stuck.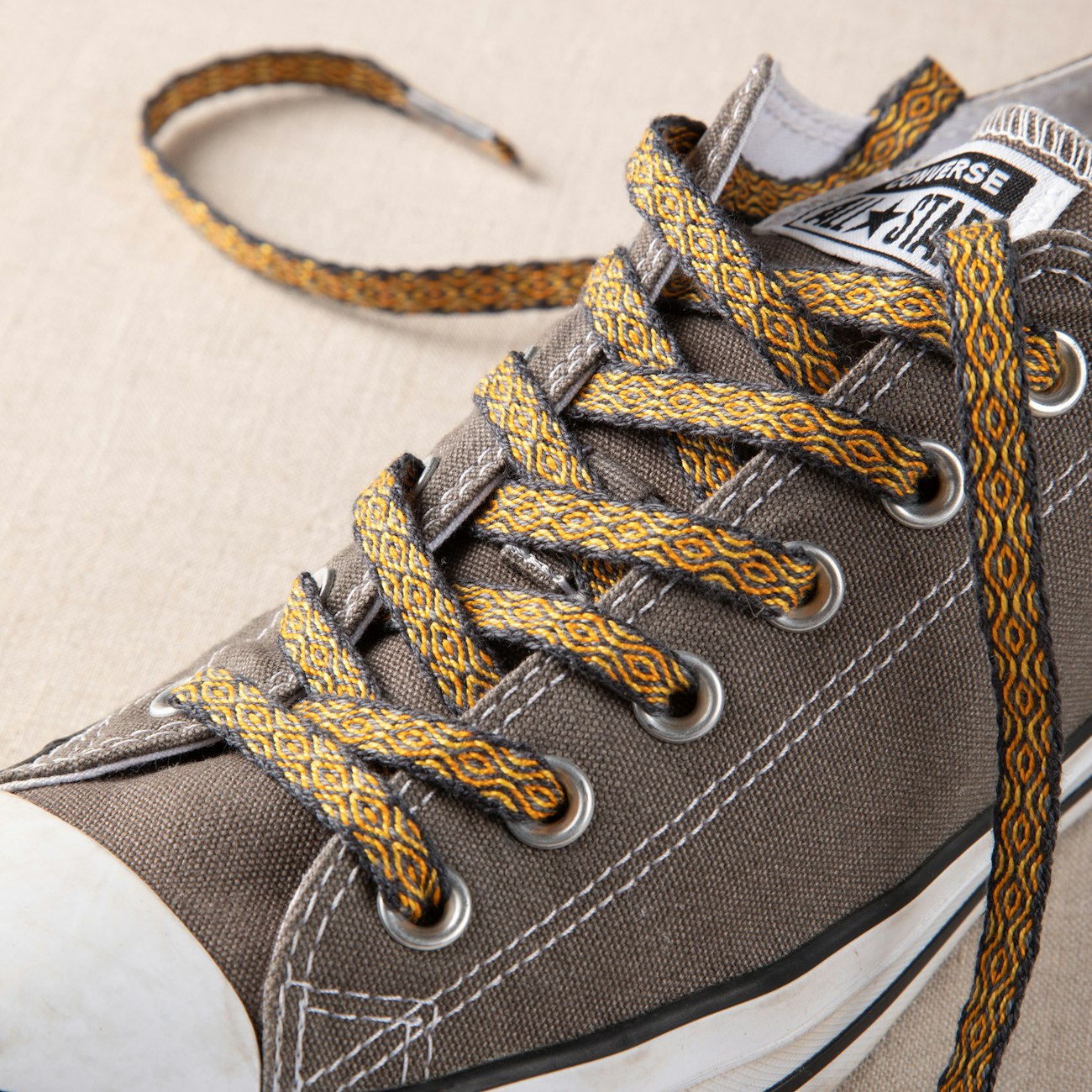 John Mullarkey's Astounding Laces from Little Looms Summer 2021 are tablet-woven. Photo credit: Matt Graves
"Tablet weaving is a primitive weave," John explains. "Even though it does not offer as much structural variety as a floor loom, card weaving has more pattern flexibility." Since buying his first set of tablets, he has tried other weaving styles, including floor looms, but he keeps coming back to cards. "I take workshops in other techniques and weave structures to test how they may be applied to card weaving," he said. "Some have worked, others haven't, but what interests me most is finding new ways to push tablet weaving toward more contemporary designs in ways the cards have never been used before."
BUILDING A BETTER LOOM
After starting with the backstrap traditionally used for card weaving, it didn't take John long to look for an easier method. "Basically, I'm a lazy person, and by that I mean an efficiency expert," John said. "I thought there must be an easier way to manipulate these cards."
His first attempt was a copper-pipe loom "contraption" he built in one day and used for a couple of years before moving on to an inkle loom. He later worked with a friend to design a small card loom that would be smaller and more portable for workshops.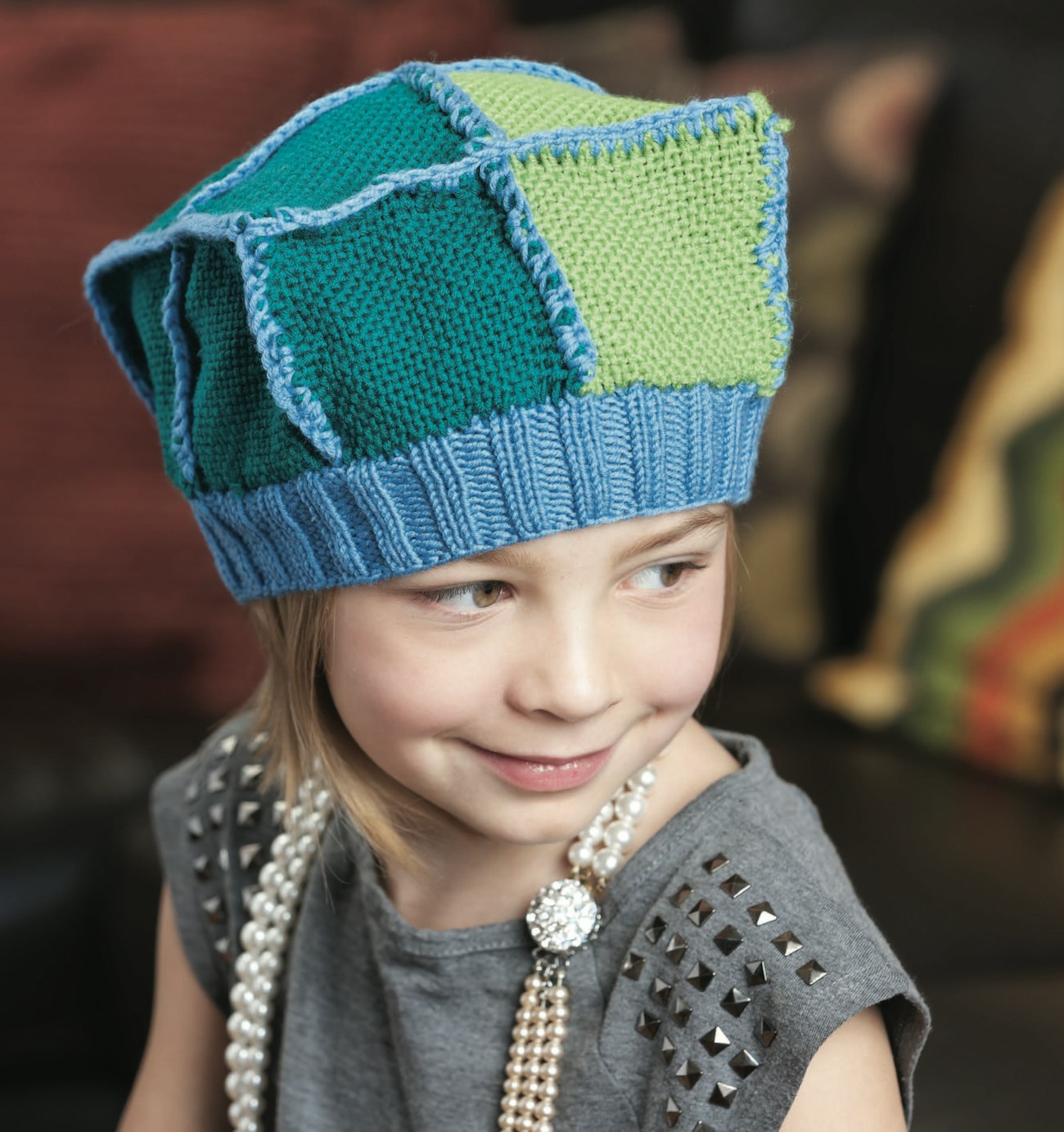 Slouchy Box Hat by John Mullarkey, woven by Benjamin Krudwig. Photo credit: Joe Coca
It was his other venture into small-loom design that made it into full-scale production in collaboration with Schacht Spindle Co. In a pin-loom–weaving class, he and fellow students enjoyed the process but lamented that the once-popular Weavettes (also known as Weave-Its) were no longer available. The students spent the last part of class brainstorming a better pin-loom design and convincing John to build them.
"That was never part of the plan," John said. But he saw a market niche that needed filling, hired an industrial designer, and they created a prototype. He mentioned the prototype during chance meetings with Jane Patrick and Barry Schacht at conferences, which led to a formal meeting at Schacht's Boulder, Colorado, factory. The result was Schacht's Zoom Loom, with credit to John Mullarkey on the box.
MAKING NEW WEAVERS
Equipment design, however, takes a backseat to John's primary fiber passion: teaching. "I hate public speaking, but I love teaching," he says. "The energy between you and a room full of students is very exciting." And, he adds, he always learns something. Since his first teaching conference in 2009, John's workshops have gained a national following. A few years ago, he left his part-time job as a software developer and began teaching full-time.
John typically has a busy teaching schedule, but if you can't get to one of his workshops, you can check out his two video courses, Tablet Weaving Made Easy and Double-Faced Tablet Weaving. In addition to writing and designing for Handwoven, SpinOff, and (of course) Easy Weaving with Little Looms, he has also published two books: A Tablet Weaver's Pattern Book, in cooperation with fellow Weavers Guild of St. Louis members, and Tablet Weaving: Egyptian Diagonals.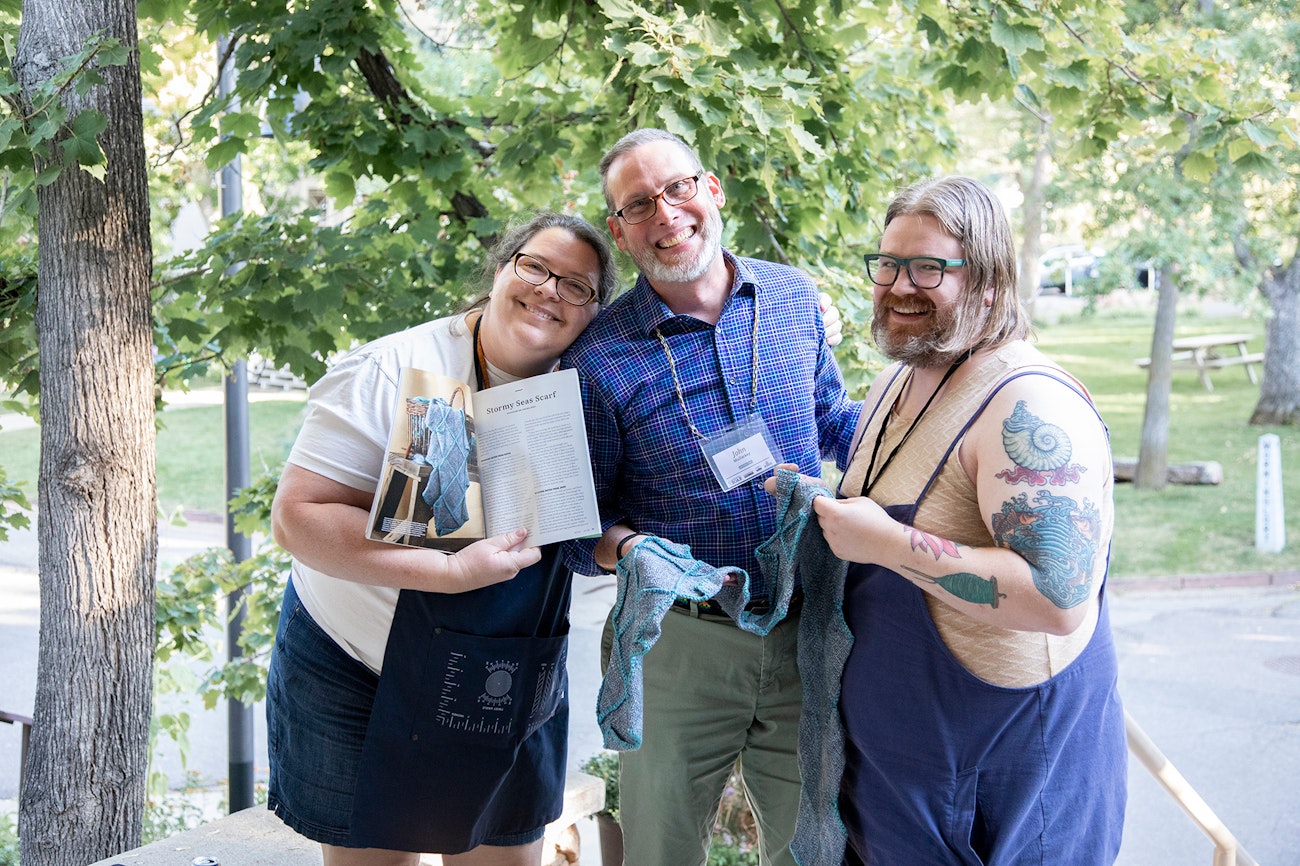 Anne Merrow (left), John Mullarkey (middle), and Devin Helmen (right), admiring the handspun, handwoven Stormy Seas Scarf from Spin Off Fall 2021. Photo by Matt Graves