You're headed to an appointment and realize just as you grab your keys that you need a project to keep your hands busy in the likely case that you find yourself waiting. This project, this little savior, will let you pass the time in relative bliss. In fact, you might be so content working in the waiting room that you're a little bit annoyed when your name is called. Such is the power of making: to lift you out of yourself and transport you to a land of bliss or a place that we call "flow." Flow happens when time passes without you sensing it. You get so caught up in the flow when creating your art that time ceases.
You've probably entered that sacred space before. What medium did you use to get there? The image of a lady sitting on a bench waiting for a bus while clicking her knitting needles is an archetype of sorts. Maybe that archetype exists because people like us must make something, whether in public or in private, and really don't care what anyone thinks about this compulsion. As a relative of ours once put in her epic needlepoint wall hanging: "Fish gotta swim, birds gotta fly . . . and I gotta make!" Okay, we added that last bit, but we swear that is what she was thinking when she made that stunning piece of her own design.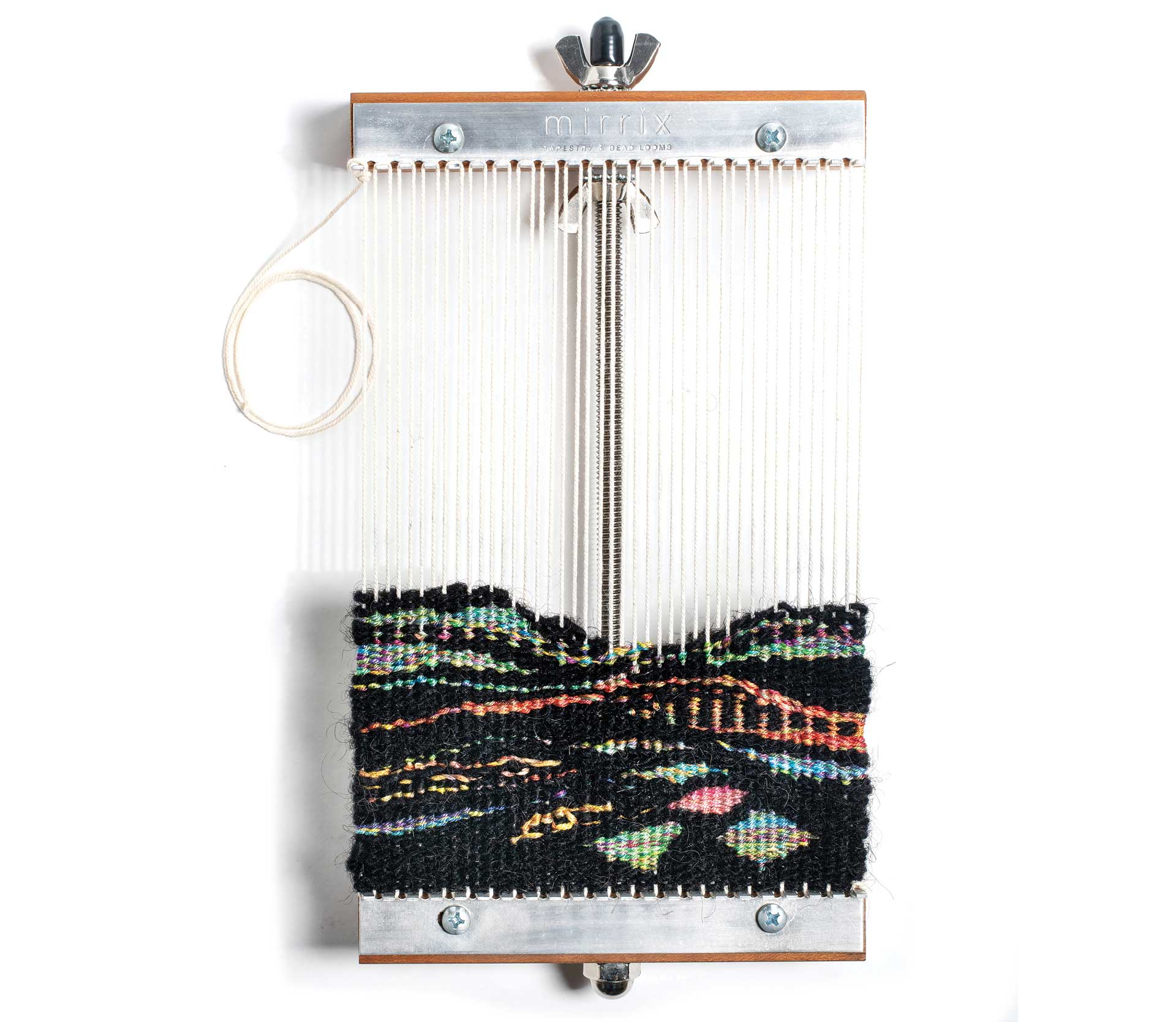 For us, our medium of choice, whether we're curled up on the couch or sitting on a bus, is tapestry weaving. Tapestry is underrated as a portable craft. Its cousins knitting and crochet get a lot of attention as on-the-go activities, but tapestry holds its own as a movable hobby because it's perfect for working on while traveling or simply out and about, as well as for those of us who need to keep our hands busy at all times.
Tapestry weaving is defined by three main elements: It is weft-faced, it is generally pictorial, and it is not woven entirely selvedge to selvedge with each pick. These three factors make it a relatively slow type of weaving. On the other hand, tapestry works very well on a portable loom, and here are a few reasons why. First, you can start and stop weaving relatively quickly. There is no need to finish a row or a section; you can weave one quick half-pass and stop if need be. Second, there's not much cleanup. At home, you might weave with a basket of yarn by your side, but when you're out and about, you can weave with a handful of premade butterflies that can be gathered up at a moment's notice. Third, a quality tapestry can be woven at any scale. When you imagine tapestry weaving, you may picture enormous pieces covering castle walls, but with the right loom, you can make a gallery-ready piece that will fit in one hand.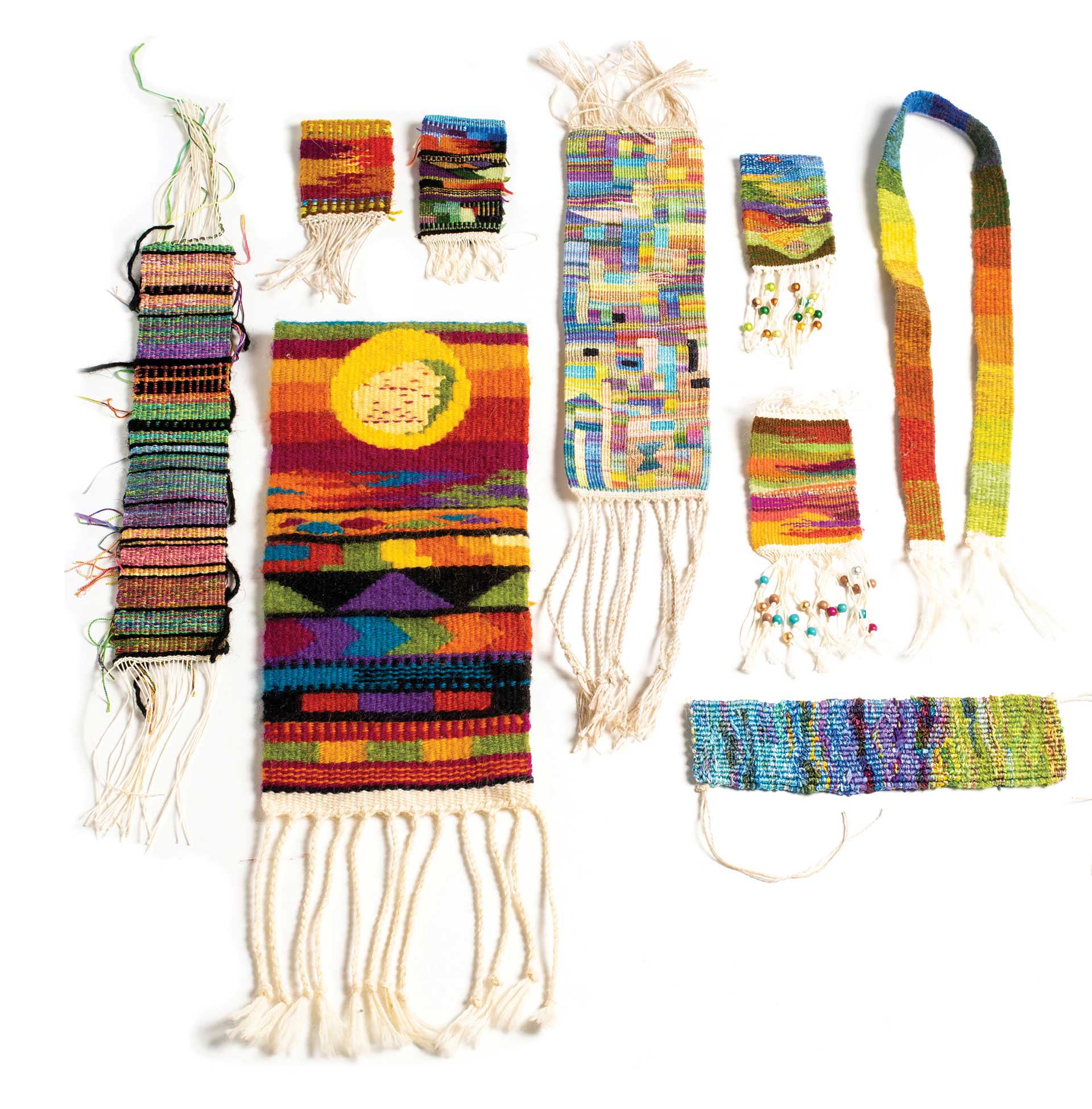 Traditionally, large floor looms with thick beams, foot treadles, shedding devices, and on-loom tensioning devices were used to weave tapestry. These features are ideal for tapestry weaving, which requires relatively high and even warp tension. Small looms, and even tiny looms, can be just as functional as large ones and often include similar features that allow users to make professional-quality tapestries on a small scale. A small loom that is strong is a must (the high tension of tapestry can cause the side bars of a loom to bow), and we think an on-loom tensioning device is, too. Add-ons such as a foot treadle, shedding device, and variable setts are also wonderful features that make weaving tapestry on any loom, big or small, a little bit easier, but none of those add-ons are absolutely necessary.
When people think of tapestry weaving, they often think of wall hangings, but there are many other uses for tapestry, and plenty are perfect for a portable loom.
Tapestry jewelry is probably our favorite way to incorporate tapestry techniques on a small scale. Years ago, we stumbled on a project idea that has become a perennial favorite for us to share with new tapestry weavers in kit form, although it's easy for even beginning tapestry weavers to design their own. The Tapestry/Bead Cuff Bracelet is a tiny tapestry woven with rows of beads and fun wefts such as variegated silk, railroad yarn, and gold thread all secured to a brass cuff with an Ultrasuede backing. The rows of beads help to keep the weaving from pulling in at the selvedges, a common problem for new tapestry weavers, and the cuff offers an easy framework on which to practice techniques and experiment with textures. Because it's so small, it's a great project for using leftover yarn, and the final product will class up any outfit from jeans to a little black dress.
Another category of portable-sized tapestries includes pouches and purses. Tapestry-woven phone cases are a favorite project these days. We have woven phone cases using handpainted silk, wool, cotton, and just about anything beautiful we can get our hands on. Simply weave a piece based on the size of your phone, line it with something soft such as silk or velvet, and voilà, your little tapestry is now functional art—and also a perfect gift!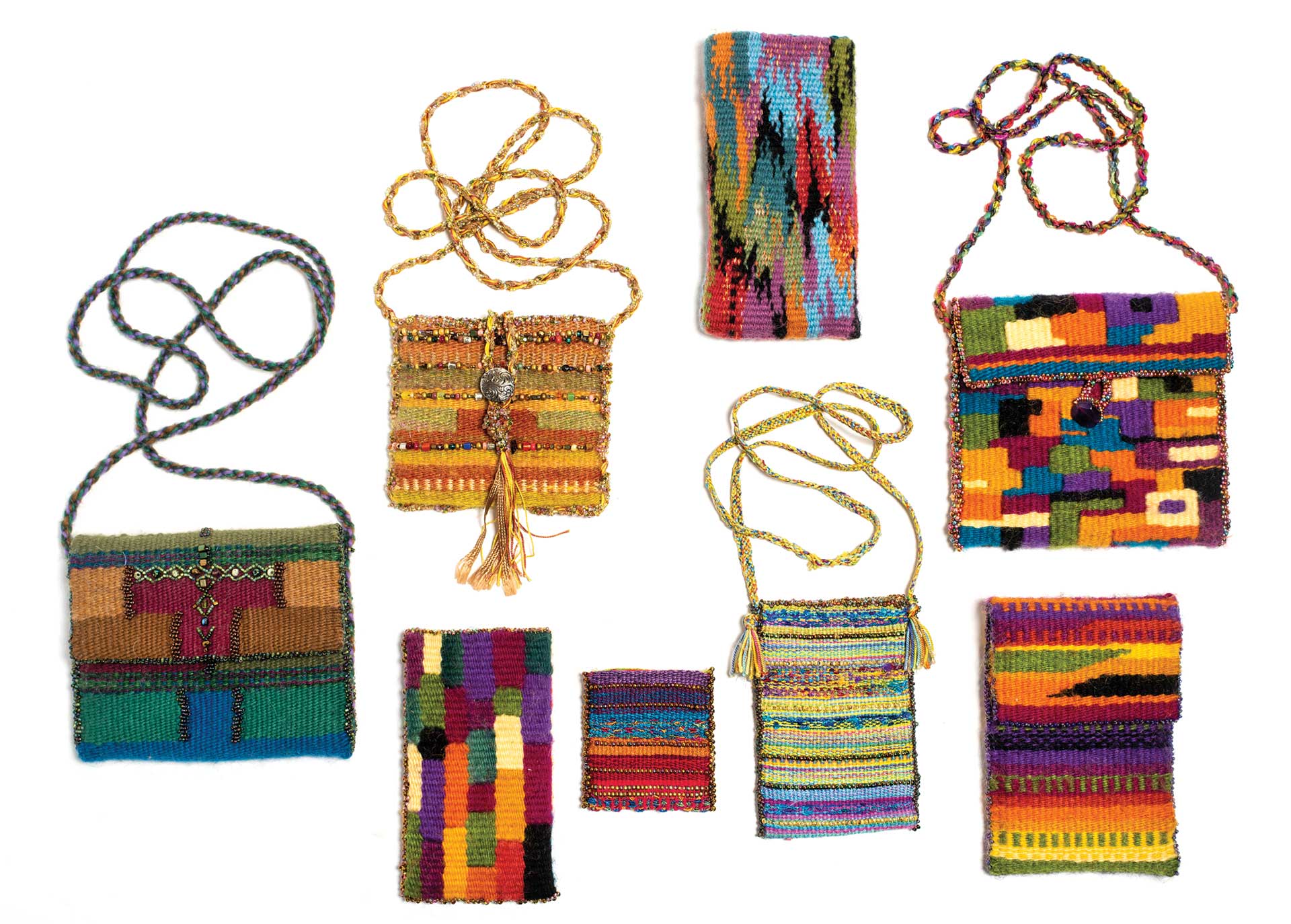 Of course, little wall hangings are the perfect projects for a small tapestry loom. Use them to practice with new warp, weft, or techniques. You can whip off one in a day, string or frame several together, adorn a tiny bare spot on your wall with a wonderful piece of art, or gift it to a friend. For us, giving away our tapestry creations is the perfect way to finish their journeys. We have devoted a lot of weaving time to these little gems—they allow us to keep making and keep giving.
Being a maker is a lifelong gift, and being able to weave on the go makes that gift even better. When you've got a loom on your lap and are in the weaving flow, waiting for a tow truck or an unanticipated dental appointment feels less a burden. Remember, glove boxes are not really for gloves and purses are not just for wallets. Make sure you are never stranded without something to make. For us, that means always having a little tapestry loom and a lovely stash of yarn at the ready. Don't leave home without them!
Claudia Chase and Elena Zuyok are the mother-daughter team behind Mirrix Looms. Claudia founded the company 25 years ago with Elena joining her just over a decade later. Their newest loom is the extra-portable Saffron.