We recently stumbled across this gem of a project that was originally published in Handwoven March/April 2016. The Nordic Notes Guitar Strap is an inkle band woven with 3/2 pearl cotton, creating a nice dense band. The 90-thread warp weaves up to a perfect 2-inch width, which helps disperse the weight of your instrument and avoid pressure points as you play. Don't have a guitar? Fortunately, guitar straps are functional for more than just holding your favorite instrument!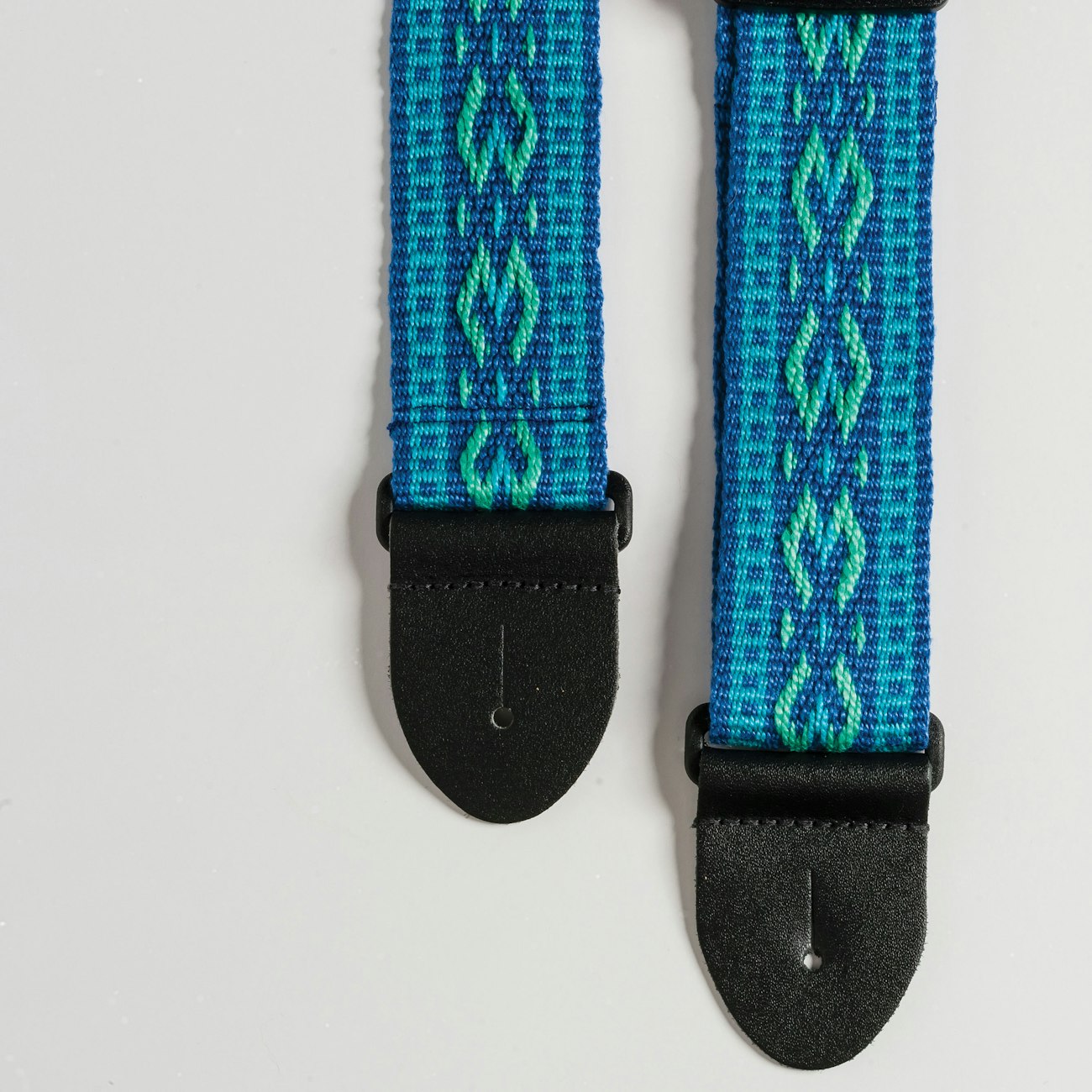 This colorful design by Connie Rubsamen features a Norwegian pick-up pattern.
You can easily attach the strap to a gym or duffle bag to carry your items with style. Use it to make an extra-sturdy dog leash, or put two straps together to create a plant holder to hang from the ceiling. It's even been suggested you could rig a band to carry firewood bundles! There are even more clever ideas for your inkle bands—from tried-and-true to creative that you can explore. No matter what you use your strap for, this beautiful design with Norwegian pick-up is worth adding to your collection.
Project at a Glance
This colorful band features a center design reminiscent of Ms and Ws, created using a Norwegian pick-up pattern, although it is an unusual take on this style of pick-up inkle weaving. In more traditional versions, the pattern threads would be either a heavier yarn or a doubled end, but that's the joy of experimenting.
FIND IT: This pattern is available to download below or in our Little Looms Library.
PROJECT TYPE: Inkle.
TECHNIQUE: Warp-faced pick-up.
EQUIPMENT: Inkle loom, 2" weaving width; 45 heddles; 1 belt or band shuttle.
YARNS: Warp: 3/2 Pearl Cotton (100% mercerized cotton; 1,260 yd/lb; UKI), #16 Royal, 165 yd; #148 Caribbean, 75 yd; #110 Teal, 30 yd. Weft: 3/2 Pearl Cotton, #16 Royal, 40 yd.
DIMENSIONS: Width on loom: 2". Woven length (measured under tension on the loom): 80". Finished size: 2" x 75".
Pattern Download
The full instructions and pick-up chart for Nordic Notes Guitar Strap are available