Beads are a beautiful way to add a little extra something-something to a woven piece. You can use them to add pops of color, texture, and even whimsy. On the flip side of the bead coin, they can also cause problems when it comes to actually using your piece. So here are a few tips to help you add beads successfully.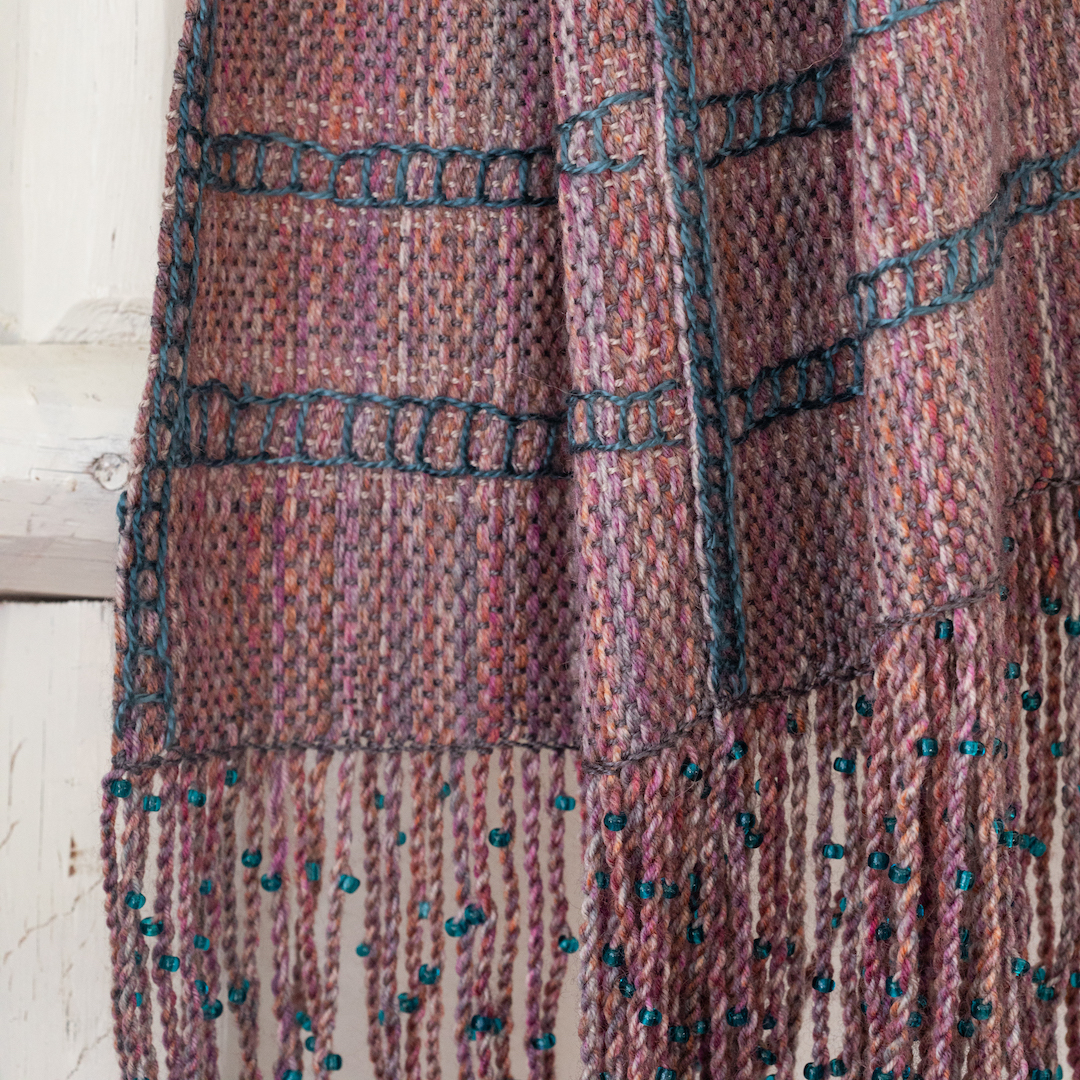 The Chain Reaction shawl by Deb Jarchow from the Fall 2022 Easy Weaving with Little Looms.
One of the most common ways I've seen weavers use beads is to twist them in the twisted fringe of a scarf or shawl. While this does give the piece a bit of sparkle, remember that less is more. Too many or too heavy beads in the fringe can weigh down the entire piece and destroy the beautiful drape of your delicate silk scarf. Go for small, lightweight beads and try to keep them to a minimum. Deb Jarchow's Chain Reaction shawl, shown above, is a great example.
Another way to use beads in woven fabric is to place them within the web of the fabric itself. This can create an absolutely stunning effect, but you have to be careful. If you're using beads in this way in a scarf or shawl that will be worn partially on the neck or back, having beads that can come between those two areas and a hard chair can cause discomfort. Personally, unless I were using the smallest and most delicate of beads, I'd stick to putting them on the ends of the scarf. (Although, if anyone wants to make a shawl that emulates the wooden-bead chair covers so it doubles as a back massager, I would love to see it.)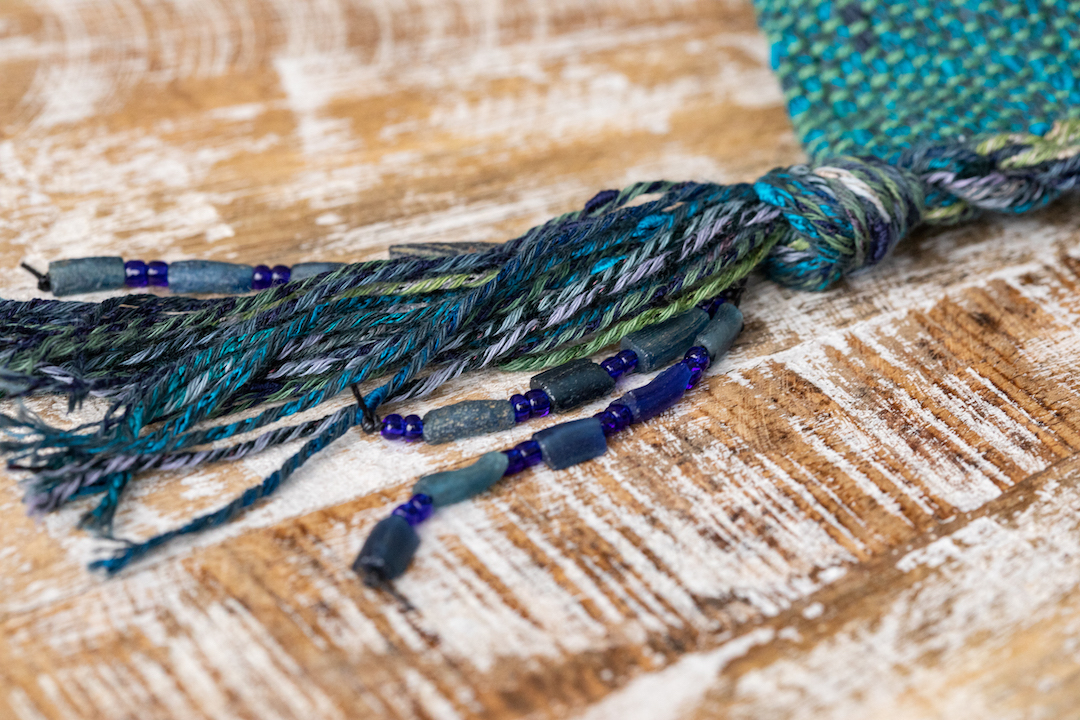 Close up on the tassel of Carla Jeanne Hubbart's A Bag for Janice.
Bags are also a great project for incorporating beads into your weaving. You don't have to worry about drape or placement of the beads and how they affect comfort. In her A Bag for Janice (pictured above), from the Fall 2022 issue of Easy Weaving with Little Looms, Carla Jeanne Hubbart adds a couple of beautiful beaded strands to her fringe. The result is subtle and elegant.
For a more showpiece-use of beading on a bag, you can take a cue from Alison Irwin's gorgeous Not So Plain After All bag from the same issue and shown in the photo at top. Although in her article about the bag Alison focuses mostly on the kumihimo, the touch of peyote-stitched beads on each tassel elevates the whole bag to a new level. Don't want to do anything that fancy but want a similar effect? Consider instead using large, handmade beads in a similar way—I bet some Ghanaian glass beads would be perfection when used on tassels like this.
Remember, these tips are guidelines more than rules. Weave the pieces that make you happy, and if beads in the fabric of a scarf don't bother you, weave beads wherever you'd like. As long your weaving makes you smile when you use it, that's what really matters.
Happy Weaving!
Christina