When our project editor, Angela K. Schneider, heard about the theme of our Summer 2023 issue (Let's Get Cooking!), she just had to show us some pin-loom sushi she'd woven a few years back. After seeing the adorable pin-loom rolls, we knew we couldn't not publish the project—but the issue was full, so what were we to do? Turn it into a subscriber-exclusive project, of course!
Each piece of sushi requires only 3 pin loom–woven rectangles and a bit of scrap yarn. Speaking from experience, I can say that one of these rolls is far easier to put together than a real roll of sushi. Once you've made your first rolls as written, experiment with different yarn "fillings" to re-create fiber versions of your favorite sushi order. Before you know it, you'll be crafting California rolls, making maki, and devising a dragon roll. Prefer Korean food to Japanese? Use this pattern as the basis to whip up some yarn-based kimbap. Like any good recipe, this pin loom–woven sushi is endlessly versatile.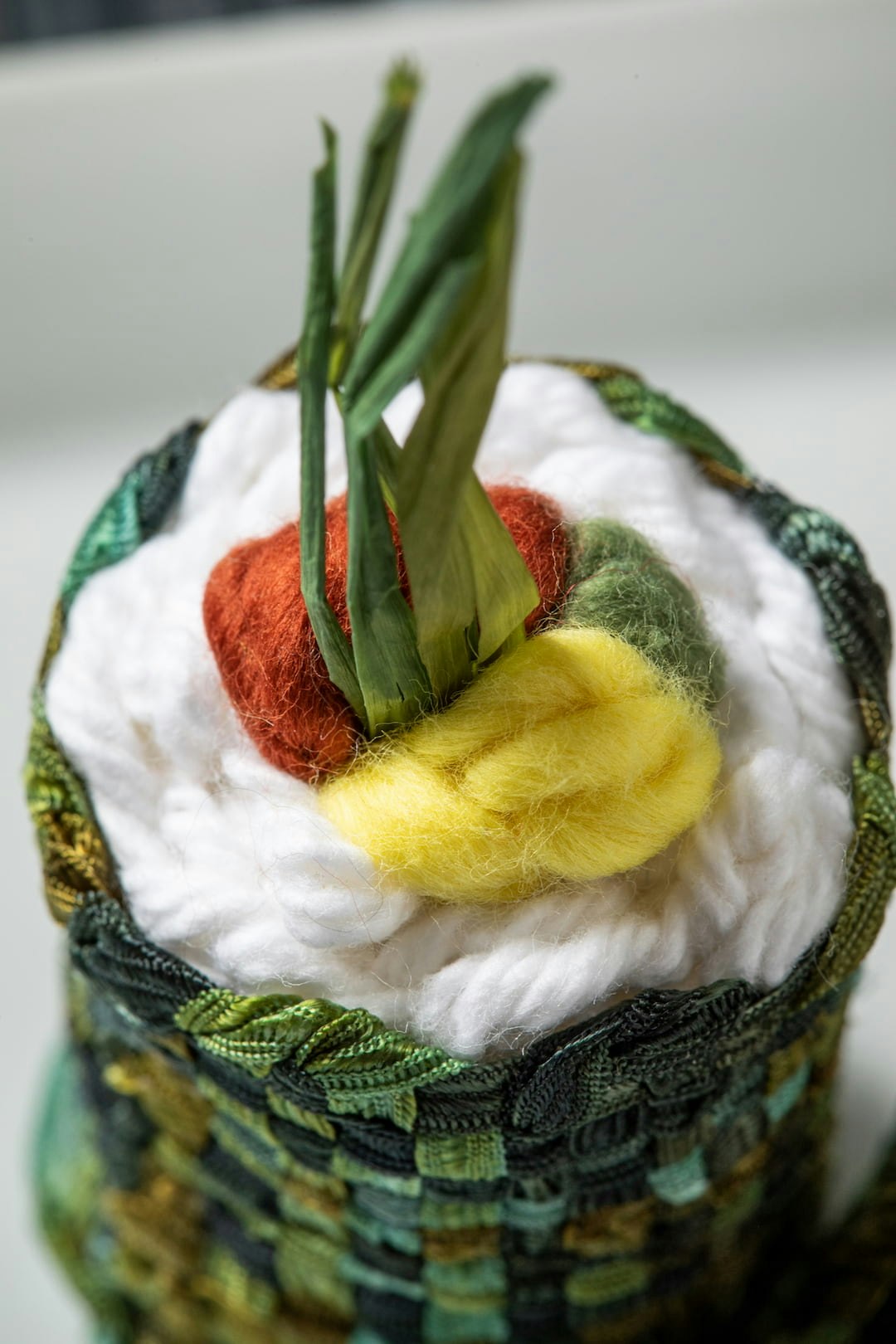 Close up of a woven sushi roll.
What can you do with pin loom–woven sushi? I plan to weave a bunch for my children's play kitchen because while they will not actually eat sushi, they like the idea of sushi. Pair your woven sushi rolls with a nice square or rectangular plate to make adorable décor for your dining room or even just on a bookshelf. I bet you could also use the sushi to make a super cute—or, to borrow a word from Japanese, kawaii—keychain or even a whimsical Christmas tree ornament.
Ready to weave your own roll? Current subscribers can click here to get their free exclusive PDF of Angela's Oru Roll.