Batman and Robin. Simon and Garfunkel. Peanut butter and jelly. These are just a few dynamic duos that, while great on their own, when combined are somehow greater than the sum of their parts. In a similar vein, the Fall 2023 issue of Easy Weaving with Little Looms is devoted to projects that combine two different elements to create something fabulous.
These two elements can be just about anything. For example, you can combine weaving from different types of small looms. A rigid-heddle woven dish towel is a lovely thing, but a rigid-heddle woven towel with a coordinating inkle hanging tab is even better. Similarly, while you can do many things with a single square, hexagon, or triangle pin-loom, the possibilities for design are so much greater when you combine shapes in a single piece.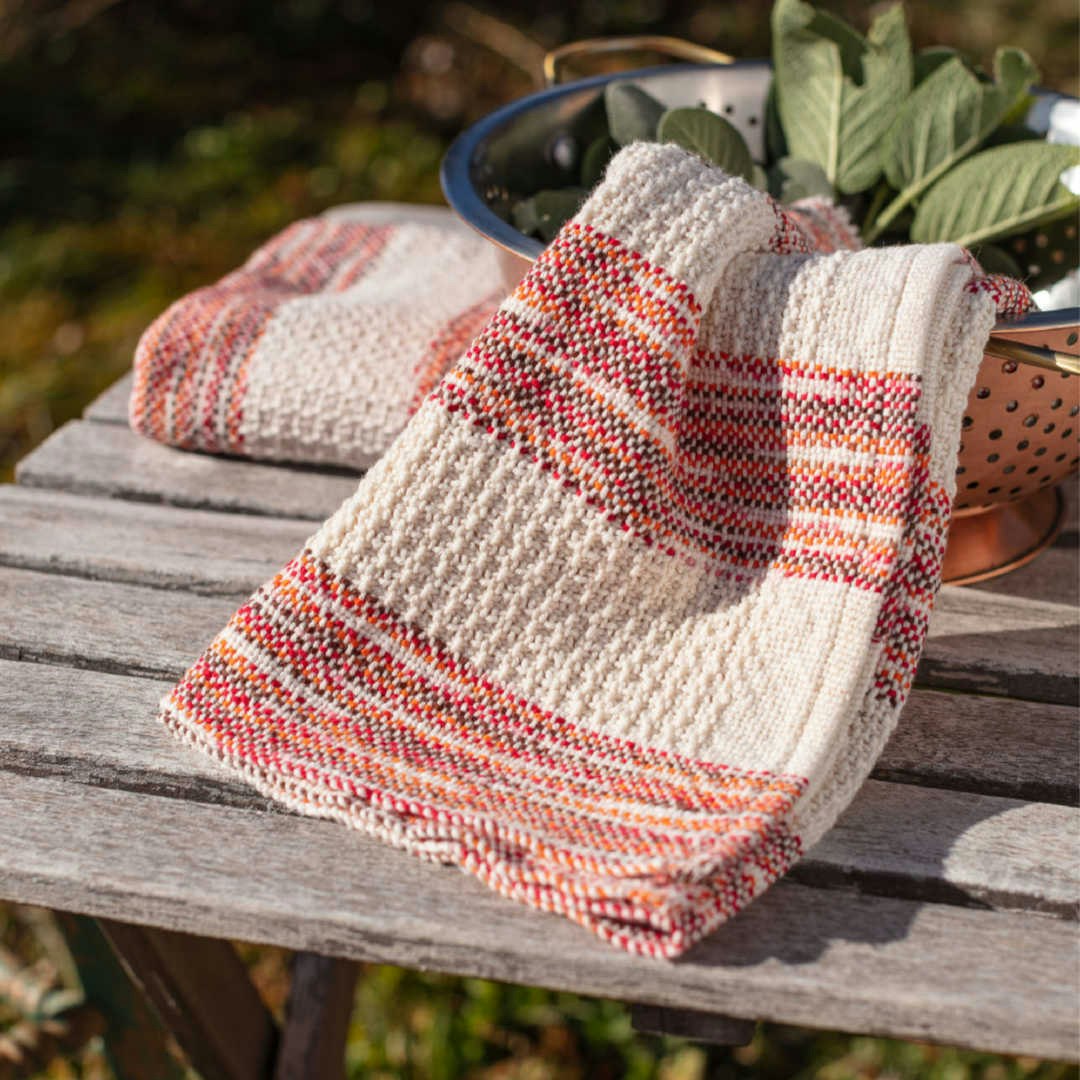 The Tarahumara Corn Towels by Jodi Ybarra from the Summer 2020 issue combines two yarns and two weaving techniques to create a truly spectacular towel.
The element could also be weave structures or weaving and other textile techniques. How about a crochet trim on a pin-loom scarf or a rigid-heddle woven skirt that uses knitting to create angels on the rectangular fabric? Or embroidery used as decoration on a plain-weave towel or even as a method of seaming two pieces of cloth together?
Of course, different yarn combinations count, too. After all, a bit of strategically used wool combined in a Tencel piece can give you a cloth with interesting differential shrinkage. A touch of textured yarn can also add a pop of pizzazz.
You can find the palette here.
Proposals for projects and articles due: 9/5/2022
Project submissions in form of photographs due: 11/7/2022
Article submission outlines due: 11/7/2022
Final submissions including projects, paperwork, and full articles due: 12/19/2022
If you would like to get a head start on the paperwork, look here first. Please use our Little Looms submission form for proposals. Submission guidelines can be found here.
Please use the email address below for inquiries that won't fit into our submission form. Please contact us and ask for a physical address to send any pieces of your proposal that cannot be emailed.
Editorial email: [email protected]
We are looking forward to seeing your proposals for projects and articles!
Happy Weaving!
Christina