Anyone who cooks knows that the simplest additions can make the biggest difference in a recipe. A squeeze of citrus in a pan sauce or a sprinkle of fleur de sel in a caramel sauce will have dinner guests exclaiming over your culinary prowess. The same is true in weaving: often the tiniest of touches can take a piece from ordinary to extraordinary. It's this philosophy that inspired the Fall 2022 Easy Weaving with Little Looms, an issue that shows it's all in the details.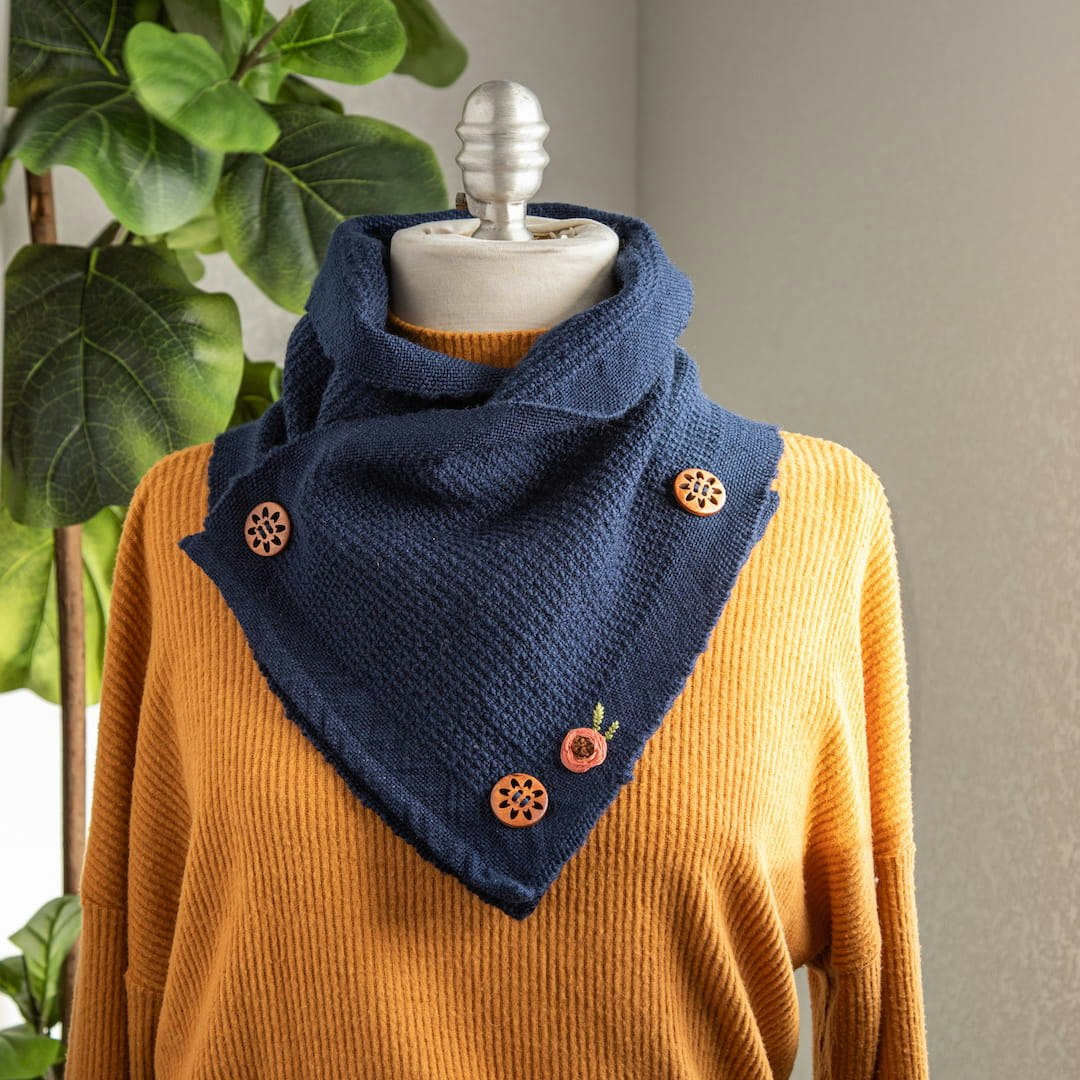 The Buttons and Blossoms Cowl by Rebecca Cengiz-Robbs features not just sweet floral embroidery, but also buttonholes woven into the fabric.
To say I'm proud of this issue is an understatement. It is chock-full of tips, tricks, and techniques to add a little je ne sais quoi to your next project. There are far too many to list here, but in this issue you'll find creative joining techniques, inlay, embroidery, fancy fringes, kumihimo, catenpile, and so much more.
If you read the word "catenpile" and thought "Well what on earth is that?!" I don't blame you. It's a fairly new technique developed by Jessica Lambert and showcased in her Arabesque Runner, which you can see pictured at top. For this new technique, Jessica joins loops of weft to create beautiful, raised-surface designs, and she was gracious enough to not just weave a project for us but to also write a detailed article about catenpile. I'm excited not just because I love her work, but also because I can't wait to see how other weavers use catenpile in their own work.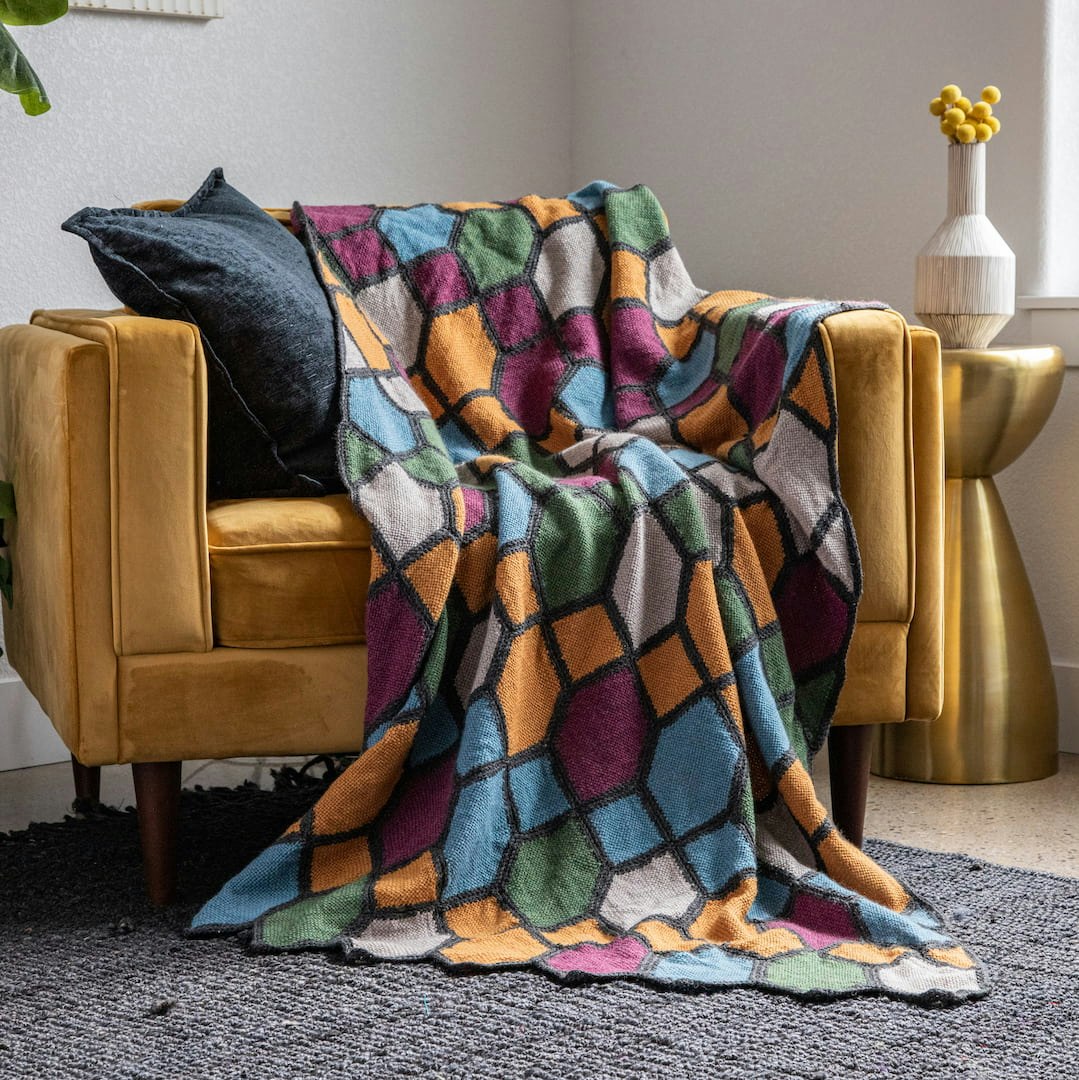 Gabi van Tassel's Catherdral Window Blanket.
Of course I can't talk about the issue without mentioning the "cover girl," Gabi van Tassell's simply spectacular Cathedral Window Blanket, shown above. If Gabi had joined her pin-loom pieces for this blanket using whipstitch or double overcast, it would have been lovely, but she used a crochet join in black, and suddenly her blanket becomes breathtaking. It's such a small choice, but it really makes the blanket truly exceptional.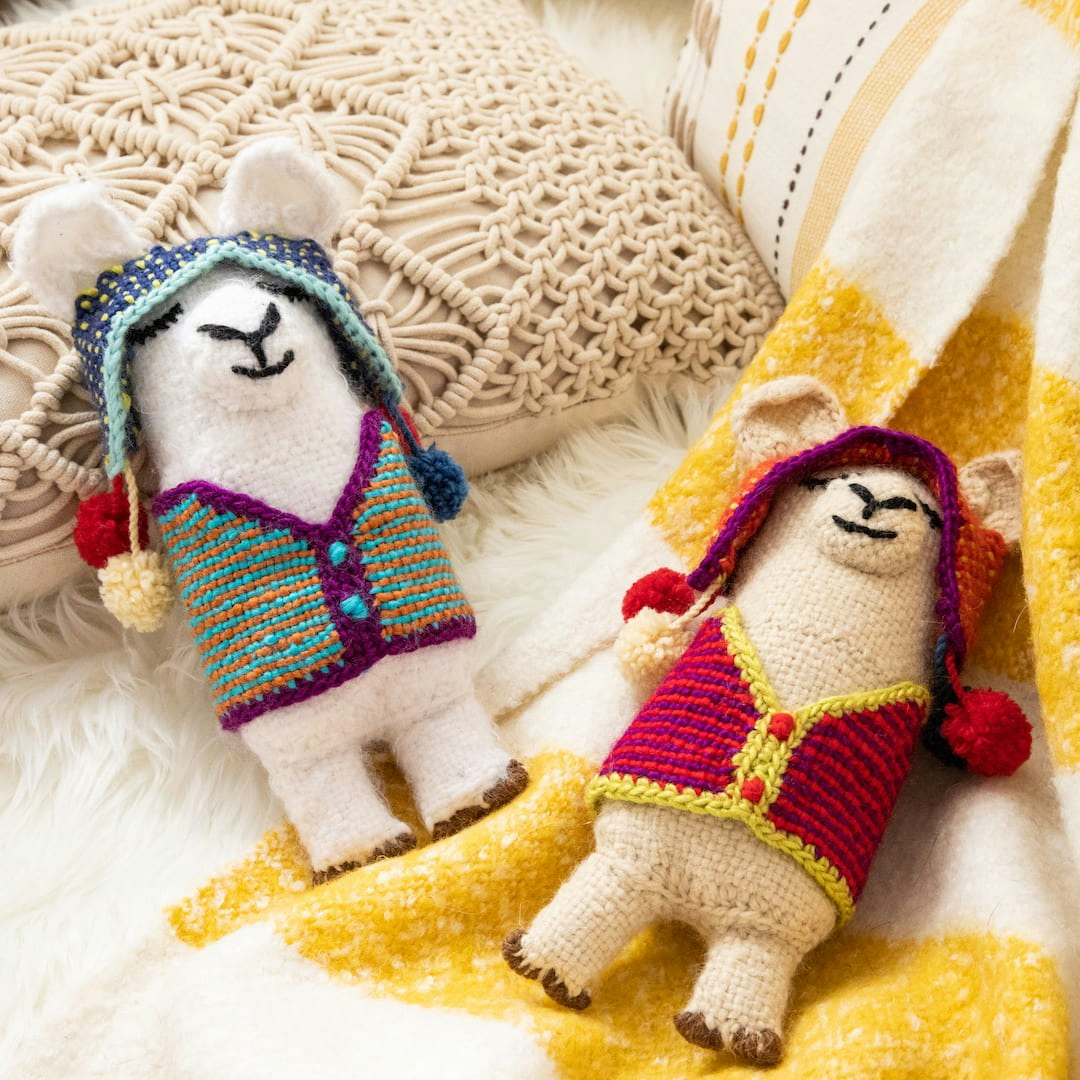 Margaret Stump's adorable No Drama Llamas.
Oh, and did I mention the issue includes a pair of pin-loom llamas? Margaret Stump truly outdid herself with her adorable No Drama Llamas, made using pin-loom woven pieces and featuring Andean-inspired hats (with pompoms!) and sweaters. I love them so much, and I have a feeling most of you will feel the same.
The issue is full of so many details, big and small, that you can weave as written or incorporate into your own designs. Best of all (if you're like me), you'll find a ton of step-by-step photos and illustrations of many of these techniques making them just that much more accessible.
Making an issue dedicated to small details was such a labor of love for everyone involved (the tech editors especially deserve medals for having to switch gears so drastically for every project), but it was all worth it. I really and truly hope you love this issue and use some of the techniques in your own projects. If you do, I'd love to see them!
Happy Weaving,
Christina