I got the idea for the Reader's Gallery when I was thinking about the 19th Amendment and ways that I could show my appreciation through weaving for the work in the past that guarantees my right to vote. I wanted to know what other kinds of messages weavers were weaving into their scarves and shawls, messages the viewer may not notice but ones that were important to the weaver. This is the last edition of the gallery and is filled with pin-loom and continuous-strand weaving. My own shawl is at the end, the one that started it all for me. —Susan
Designer Statements
Mabel Thompson: I find happiness when exploring color.
Gabi van Tassell: Wings are light as a feather. Wings envelop you with soft and gentle comfort. Wings make you free. My friend, who is struggling with serious health issues, bought the main color yarn for me at the Stephen & Penelope store in the Netherlands. Stephen West's color theory inspired me to be "bold" and use colors for the contrasting colors that I usually wouldn't use. The contrasting color yarn comes from a local indie dyer who makes the most scrumptious shawl yarns.
Virginia Schulmeier: With this shawl, I challenged myself by using a doubled fingering-weight yarn on a Zoom Loom. I also wove triangles on the square loom, and then crocheted them all together using a contrasting fingering-weight yarn.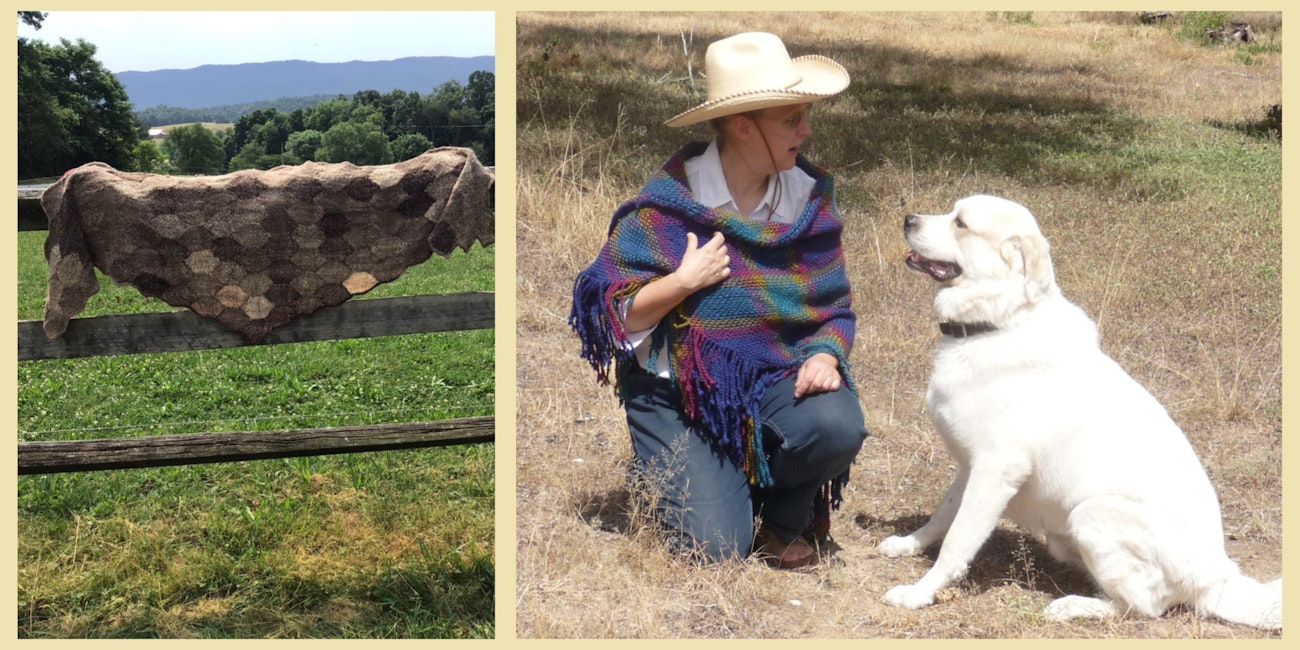 Designer Statements
Susan Ober: I wove this shawl on an Elongon Turtle Loom using leftover hand-spun yarns from the Shave 'Em to Save 'Em program. I hope it conveys the appreciation I have for those who raise these endangered breeds of sheep and those who craft the tools I love to use.
Gabi van Tassell:
2020 was definitely a year to think about identity, but shouldn't people always think of who they are? It should not be about what is better about you or worse about you, than others, but it matters to think about what makes each individual special. And these can be very little things!
I wove this on my first 7' tri-loom, and while I don't have a grain of Scot in me, I used the free on-line tartan design tool from the Scottish Register of Tartans to design a shawl that is "me." I chose favorite colors of my family members and stripe thickness according to birth order. I then wove several different shawls, all telling a story.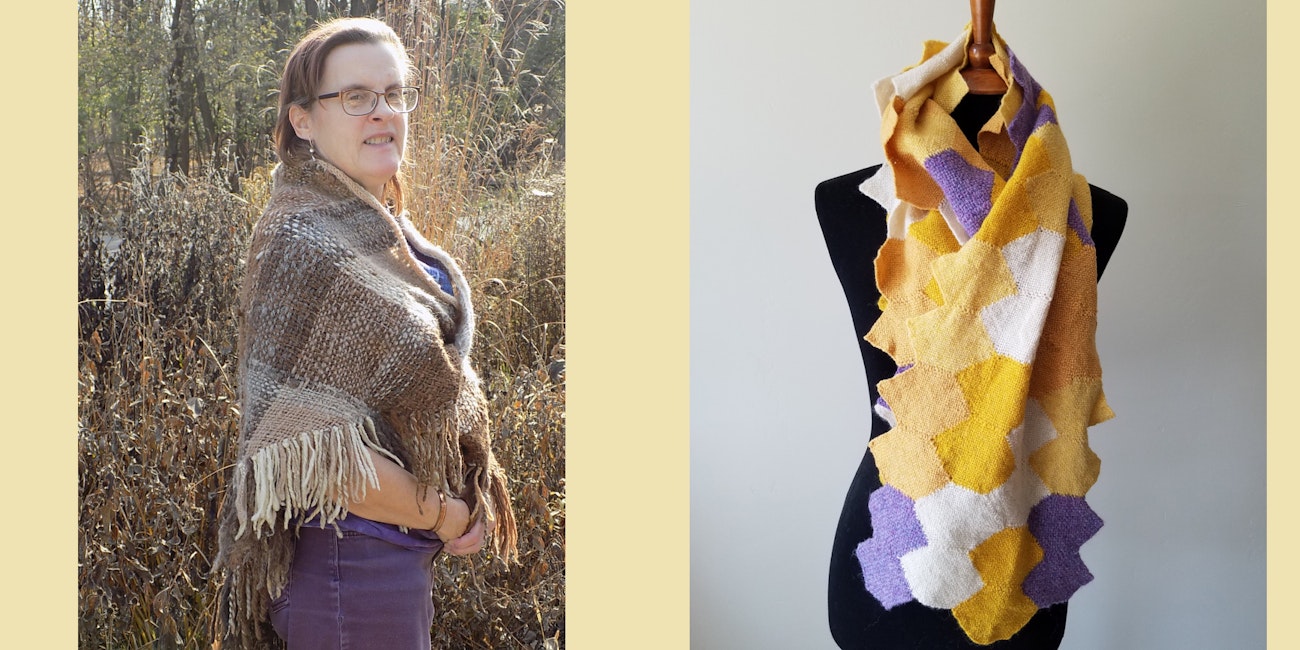 Designer Statements
Peg Matthews: I wear this shawl at Rendezvous or historical events. There have only been small private events this year. Just wrapping up in this makes me think of end-of-day campfires, sing-alongs, and a hot beverage. I wove the shawl on a large triangle loom using the continuous strand method. It took 4 days of weaving demos to complete, including fringe.
Susan E. Horton: This was my first project using a hexagonal pin loom. I chose the colors based on the colors of the suffragist movement: yellow, white, and purple. I didn't have a very formal plan in place; I just kept weaving little hexagons until I thought I had enough for a scarf and then added and subtracted until I liked the arrangement. It will be my go-to scarf for Election Days going forward.