It's no secret that I love to cook. For the same reason I love weaving, I never get tired of the magic that happens when you combine seemingly simple ingredients (or yarns) and create a wonderful, complex dish (or dish towel). While planning out the issue themes for 2023, I wanted to combine my two favorite hobbies with an issue devoted to cooking and food. Thus the Summer 2023 "Let's Get Cooking" issue was born.
When I put out the call, I hoped to get in some useful projects for the kitchen, some lovely table settings, and a few projects inspired by the beauty of fresh fruits or maybe baked goods. I got all that and so much more—not only are the projects just as spectacular as I'd hoped, but the articles in this issue are ones I know I'll be turning back to again and again. Want to know more? Here's a quick peek at the issue!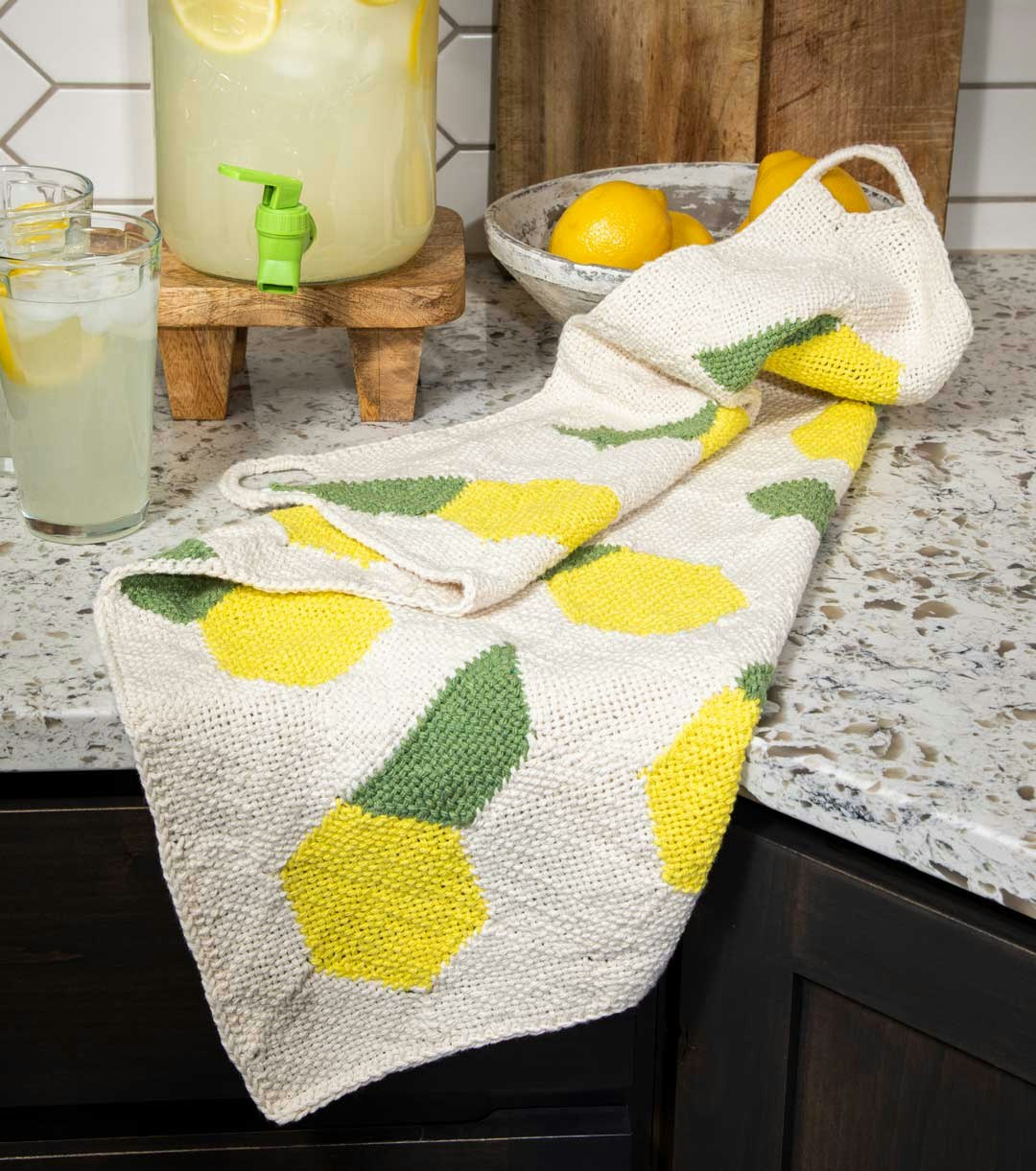 Gabi van Tassell's Lemon Drop Kitchen Towel
While I can't show you all 20 projects in the issue, I can highlight a few to show you how much fun our designers had while interpreting the theme. First, as I'm sure surprises nobody, this issue has an excellent selection of towels. The fact that one of these towel projects uses pin-loom woven pieces might come as a surprise—well, at least to anyone who doesn't know Gabi van Tassell. Inspired by vintage towels, her Lemon Drop Kitchen towel features a zesty citrus design (pun intended) and clever crochet loops on the top corners for hanging the towels to keep them close at hand.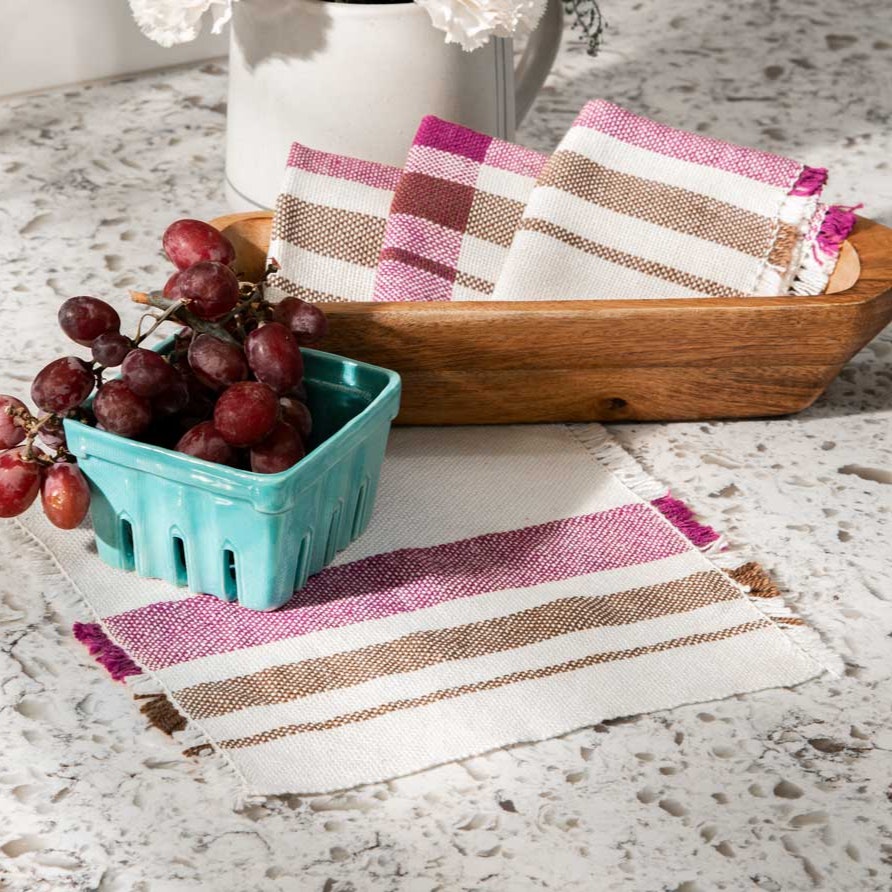 Neopolitan Napkins by Rebecca Cengiz-Robbs
We've also got a whole buffet of projects inspired by sweet treats, including two sets of rigid-heddle napkins inspired by frozen favorites: the Sherbet Napkins and Placemats by Deb Essen (shown in the photo at top) and the Neopolitan Napkins by Rebecca Cengiz-Robbs (shown above). For her Candy Dot Wrap, shown below, Christine Jablonski found inspiration in the candy buttons of her childhood.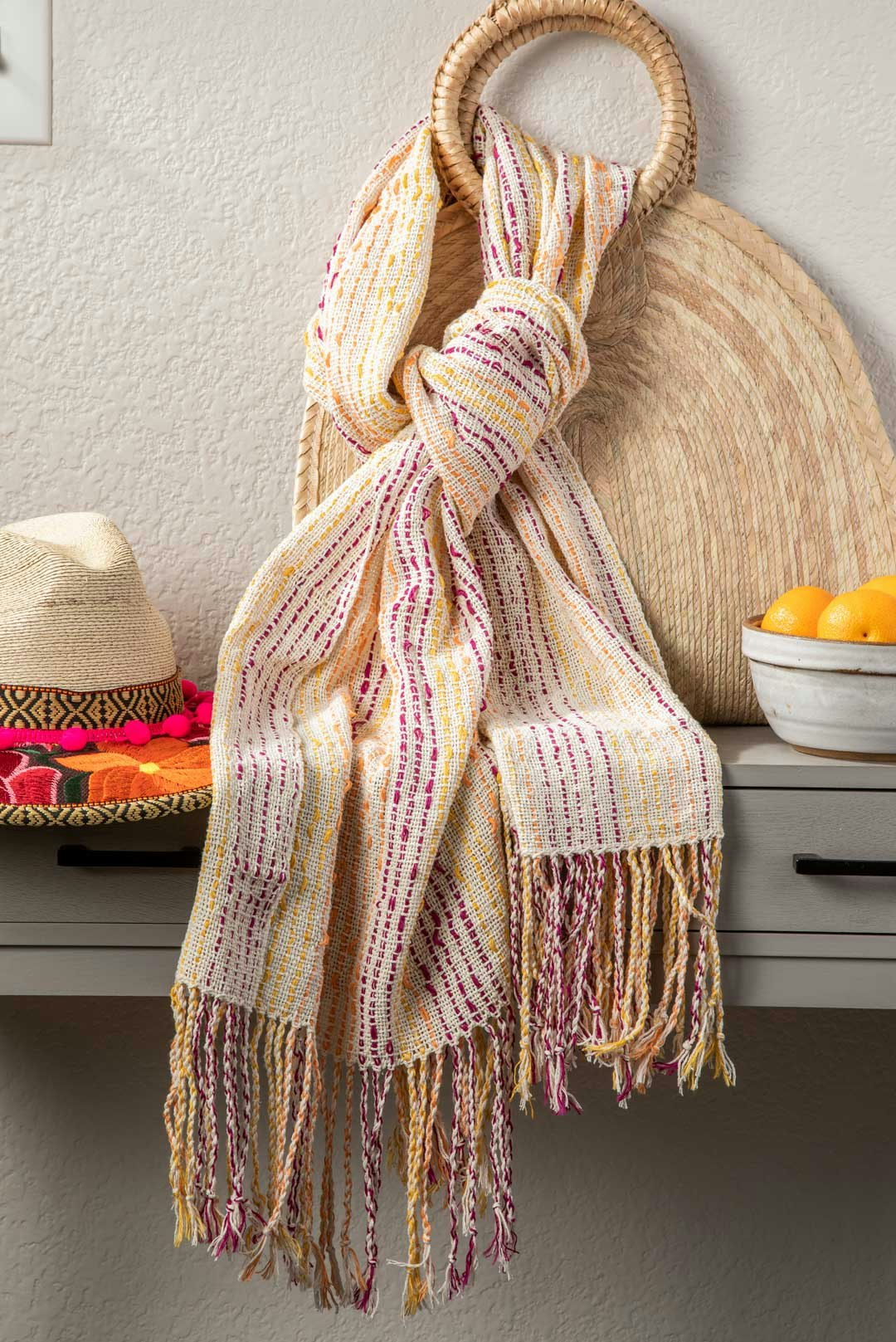 Christine Jablonski's Candy Dot Wrap
Inkle weavers don't worry—we didn't forget you! We have several projects made entirely from bands including a sweet little flatware pouch, perfect for taking cutlery to go when you feel like eating al fresco . . . or merely want to make your work lunches special. And Shilpa Nagarkar simply outdid herself with two incredible projects, shown below: her Chillar Coin Purse made entirely of inkle bands and her beyond stunning Syutah Shopper tote bag, made from a combination of inkle and rigid-heddle woven cloth.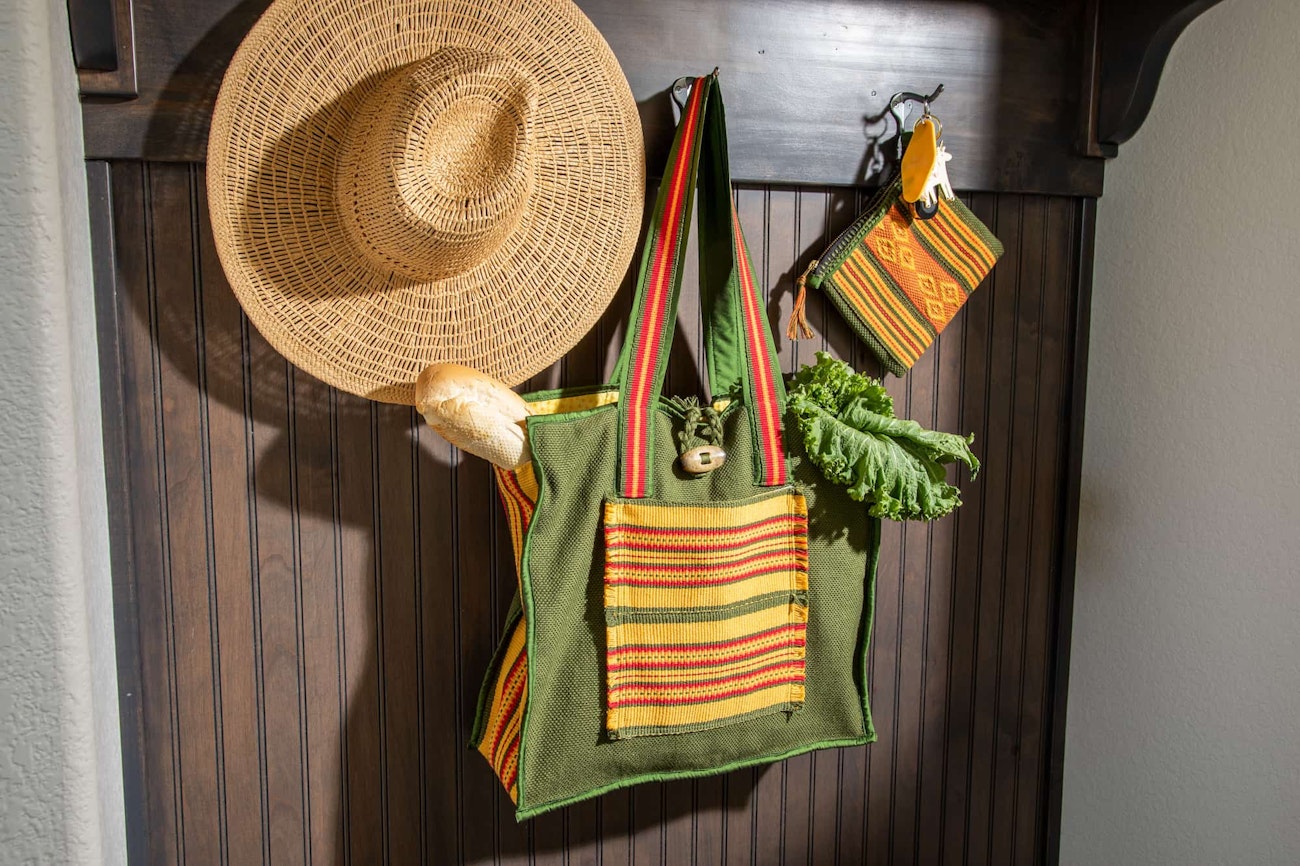 The Syutah Shopper tote and Chillar Coin Purse, both by Shilpa Nagarkar
Speaking of bandweaving, the Summer 2023 issue also features an article by tablet weaver extraordinaire John Mullarkey that gives you the basics of tablet weaving, step by step, with information about warping the loom, threading the cards, reading drafts, and weaving. If you've ever wanted to try tablet weaving but didn't know where to start, this article is a must-read. I don't want this post to go too long, but I'd be remiss if I didn't mention Rebecca Mezoff's article about how she weaves small sketch tapestries to record special moments in time and our special section on potholder looms.
I really and truly believe there's something in this issue for everyone. I hope you dig into the issue and weave up something wonderful!
Happy Weaving!
Christina