Though the calendar says the first day of summer isn't until June 21, it certainly feels like summer down here in the desert. The flowers are all in bloom, peaches are ripe on the tree, the weather is hot, and I have dyeing on my mind.
Summer is the perfect time to get outside and start dyeing. Never dyed anything before? No problem! You don't have to jump right in to having a big setup for professional acid dyes or start mixing up your own natural dyes. Many beginner-friendly dyes and dye kits are on the market, and they're a great way to get your toes wet.
The first time I dyed anything at home, I used mud dyes. Traditional mud dyes, which are used around the world, typically involve harvesting iron or other mineral-rich mud and letting it ferment for a long period. I do not have either that time or the cultural knowledge to make traditional mud dye myself, so I purchased a set of Bengala brand mud dyes. These mud dyes are designed to be as easy to apply as possible and work on almost any fiber.
After applying a prefixer to my cloth, I simply mixed the mud dyes in cold water and then swished the cloth around until it was the color I wanted. These particular mud dyes are safe to dispose of outside in the garden, so I used the remains to water my trees. Easy peasy! (Other brands of mud dyes might require different disposal methods. Make sure to check before you start dyeing.) Bengala also makes an indigo dye that is just as easy to use and can be mixed with the mud dyes to create colors not otherwise available. The only color of the rainbow I couldn't quite get down was purple.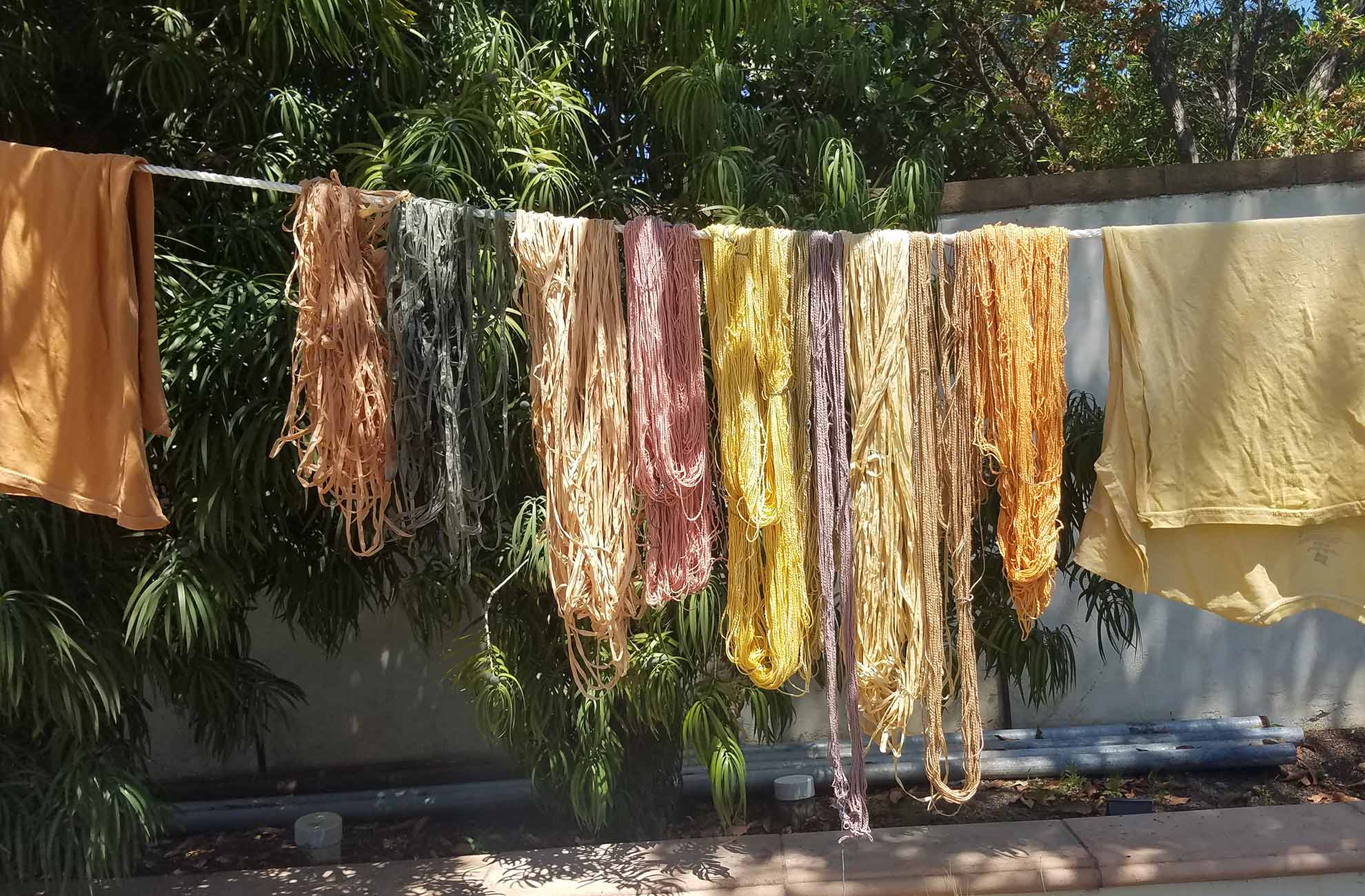 Freshly dyed skeins hung out to dry in the summer sun. Photo credit: Susan E. Horton
Another almost as simple option to beginner-friendly dyeing is the Wool Tincture Dyes from Abundant Earth Fiber. The dyes come in little tea-bag style containers, which is appropriate as they are about as easy to use as making a cup of tea. Simply put the tincture dye bag in a pre-warmed glass jar, add hot water, add the yarn to be dyed, and then stir in an included "tea bag" of citric acid. At this point, all you must do is let the yarn steep. Okay, there are a few more steps in the process including rinsing, stirring, and removing excess dye, but it's still a process that even the newest of dye newbies can handle. Just remember that, as the name denotes, the Wool Tincture Dyes work only on wool. (You can find more information about Abundant Earth Fiber and their tincture-dyeing process here.)
For those who are interested in more advanced dyeing but still need a bit of a nudge in the right direction, many companies sell dye kits that include all the dyes, mordants, and other chemicals you might need to get started, as well as some equipment. These products are usually designed for beginners and include detailed instructions. They're also a good way to try a little of this and a little of that as you figure out what you enjoy.
Of course, there is also no shame in using widely available dyes such as those put out by Tulip. These dyes are classics for a reason, and I tie-dyed many a T-shirt in my youth with Tulip and other similar dyes.
Just remember, all dyes are different and have their own unique requirements for mordanting, dye baths, type of fiber that can be dyed, and disposal. Make sure to do your research ahead of time about what's required both in terms of equipment and procedure. And never use anything for dyeing that you'd also use for food. Other than that, have fun and enjoy creating your own bespoke yarns and cloths.
Happy Dyeing!
Christina
P.S. For anyone interested in the Abundant Earth Fiber's Wool Tincture Dyes, right now all new and existing Long Thread All Access subscribers can save 25 percent storewide. The offer is available for a limited time only, so don't wait! Find more information here.