Hand-manipulation techniques add texture and visual interest to your weaving. Often, we think of certain techniques as "for tapestry weaving" or "for rigid-heddle weaving," but the truth is you can often use these techniques on either loom. Two examples of techniques that transcend loom type are rya and soumak.
If you're not familiar with these techniques, here's a bit more info.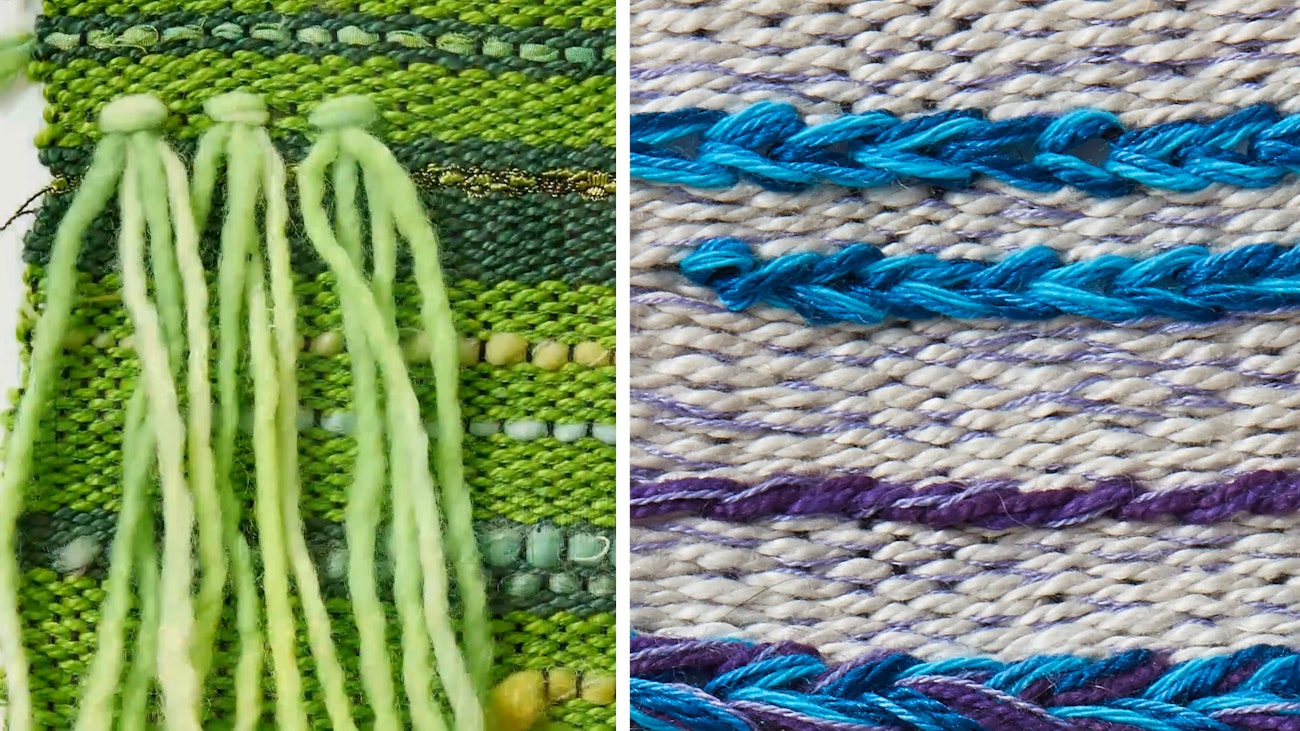 Rya knots (left) and soumak (right) are fun and easy hand-manipulation techniques. While they tend to be associated with tapestry, you can also do them on the rigid-heddle loom. Photos from the video, Expressive Weaving on a Rigid-Heddle Loom
Rya Knots
Rya knots are a type of knot used in weaving to create areas of fringe or pile, depending on how densely you tie the knots and how long you leave the tails. Today, you'll often find rya used in tapestry as a decorative technique, but traditionally, the knots were used to create pile for blankets and rugs. Rya can also be used to add fringe along the selvedges. If you're weaving a blanket that you want fringed on all sides, use rya! If you're weaving a triangular scarf and want fringe on 2 sides, try rya! I bet it would also look incredible at either end of a scarf to give a layered fringe effect. (I might need to try that myself!)
So how do you add rya knots to your weaving? I could try to write it all out here, but it might be easier to just show you. In this video short from Esther Rodgers' course Expressive Weaving on a Rigid-Heddle Loom, Esther demonstrates how to tie rya knots step-by-step and shows you just how fun and easy they are to add to your weaving.
Soumak
Soumak also adds texture to weaving, but in a much less dramatic way than rya. With soumak, you twist a weft around warp ends to create a raised area of angeled weft. Two rows of soumak, one on top of the other, look a bit like a braid within your weaving (as seen in Judy Ybarra's placemats at top). It can be used in small chunks or from selvedge to selvedge. Traditionally soumak is used to weave decorative flat-woven (pile-free) rugs.
Like rya, soumak is actually a fairly simple technique. Once you learn how to do the basics, you can adjust accordingly to create areas of thicker texture, make shapes, and much more. Once again, here's the amazing Esther Rodgers demonstrating this versatile technique.
These are just two fabulous techniques out of many that can add pizzazz to your weaving, whether you're using a tapestry or rigid-heddle loom. For more ideas and inspiration, check out the rest of Esther's course—you'll end up with a whole toolbox of techniques to add texture and interest to your handwoven cloth.
Happy Weaving!
Christina