Say what you will about pattern and structure, but so much of weaving comes down to texture. No matter how perfect you get your colors and patterning in a scarf, if it's too scratchy to wear against the skin, you've got a problem. Beyond just getting the texture right, though, you can also use the texture itself as a design element—think pick-up patterning, inlay, or using two yarns of vastly different textures to help one stand out more. Given the importance of texture, I decided to dedicate the Spring 2023 issue to projects with texture so tempting you'll want to give them the weaver's handshake through the page.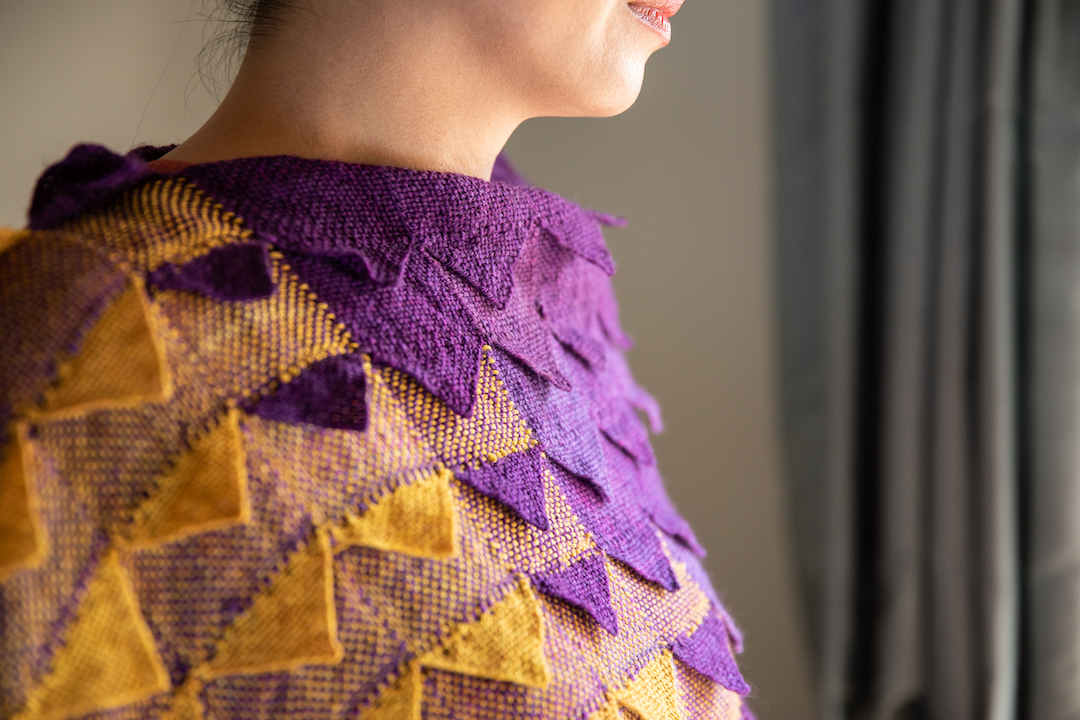 Feathered Poncho by Greta Holmstrom
In this issue you'll find crisp linens, including a set of napkins (see photo at top) woven using slub cotton in the warp and linen in the weft for a table-linen texture that cannot be beat. For her Feathered Poncho (above) made from pin-loom woven elongated hexagons, Greta Holmstrom not only used a lovely merino blend sock yarn, but she also constructed the poncho in such a way as to mimic feathers. So clever!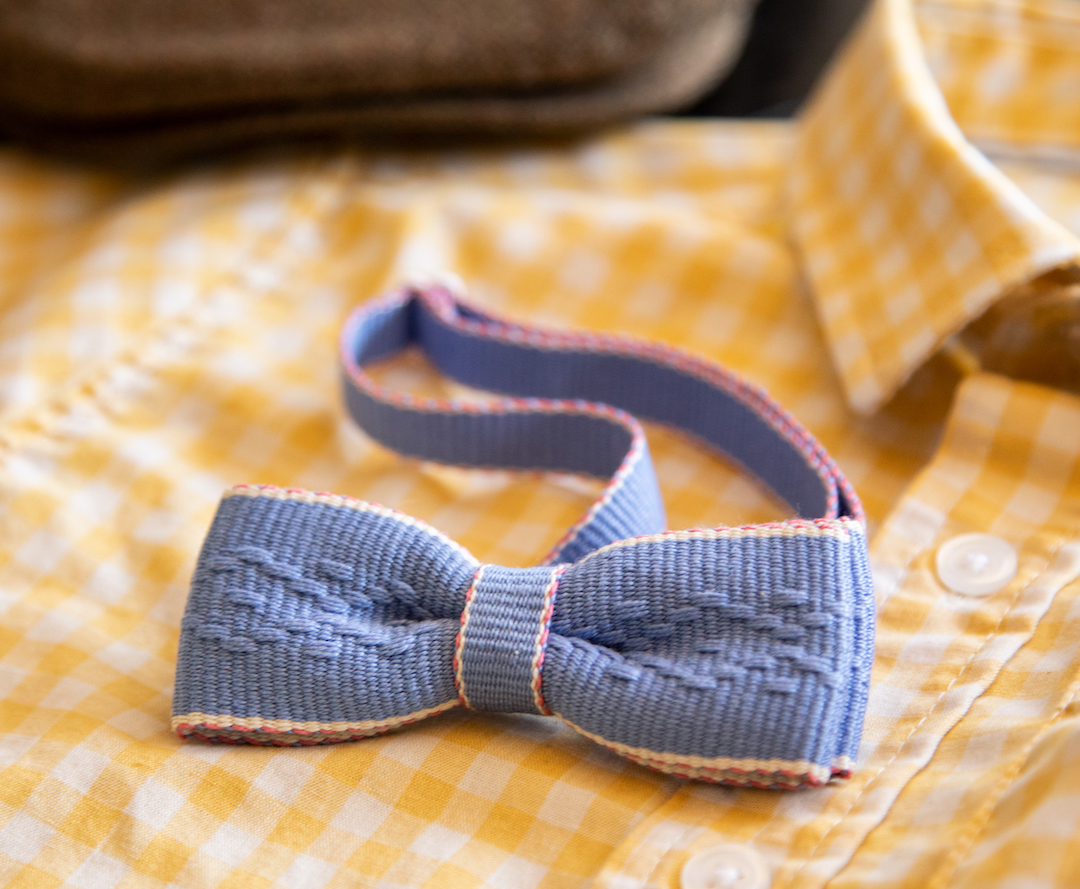 Ring-Bearer Bow Tie by Jennifer B. Williams
Wondering how texture applies to bandweaving? Take a look at Jennifer B. Williams' adorable Ring-Bearer Bow Tie shown above. The design features areas of raised pick-up that take the band from ordinary to extraordinary. Just looking at the photos makes me want to run my fingers over the patterning. Of course, we couldn't have an issue dedicated to texture without an example of differential shrinkage which you'll find in Constance Hall's spectacular Sunset View Scarf (see below).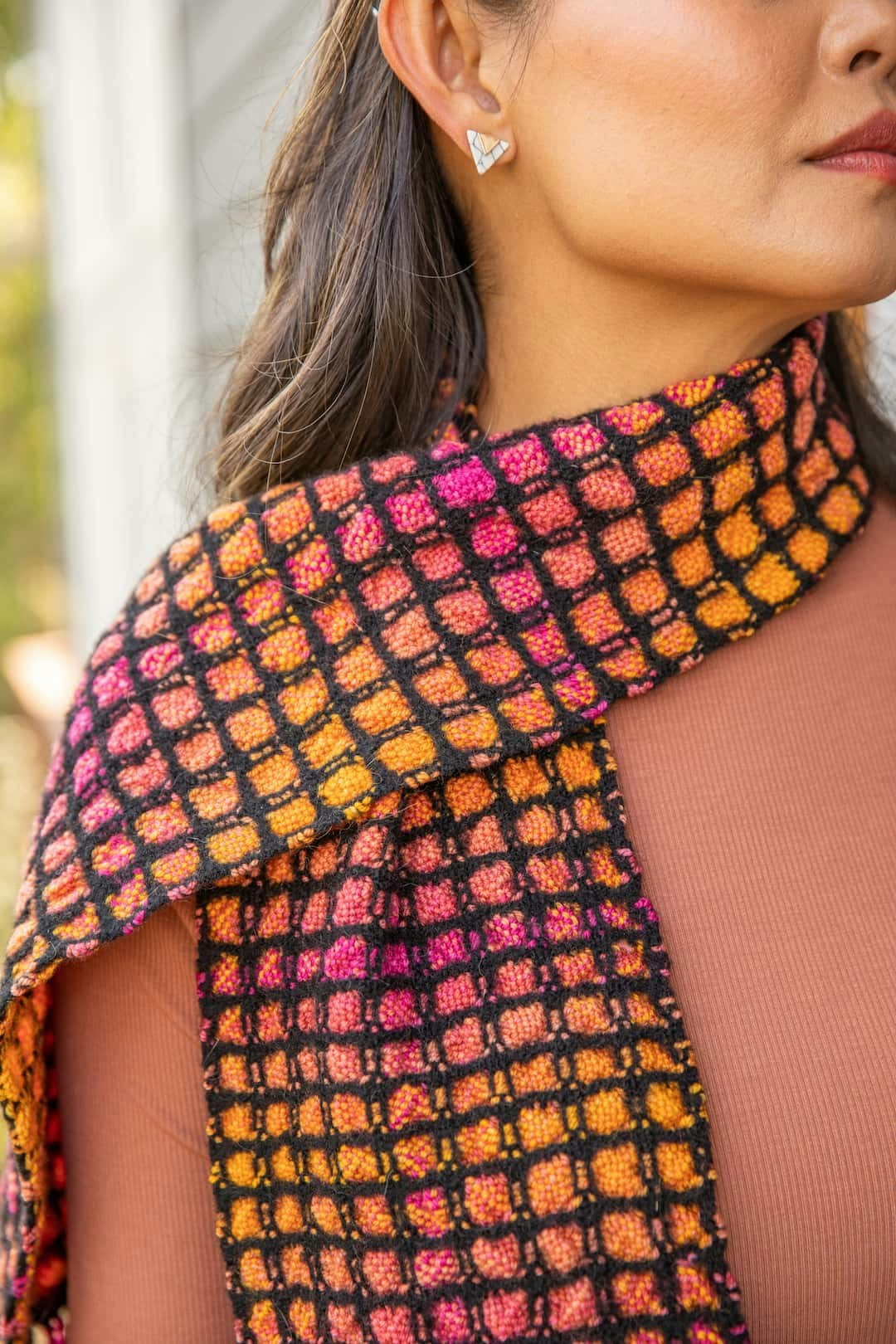 Sunset View Scarf by Constance Hall
Finally, let me not forget the articles because we've got some great ones this issue! (I probably say that every issue, but I do think it's true every time.) In her article, Greta Holmstrom explains her methods for using knitting yarn blanks effectively in her weaving—including information on how best to unravel and process the yarn. If you've ever wondered about using a darning loom, Emily Hartford's article on visible mending features a tutorial as well as other tips and tricks for beautiful mending. In our String Theory for the issue, Deanna Deeds helps to demystify mystery yarns in your stash with a variety of tests.
Of course, all this just barely scratches the surface of what you'll find in the issue. (I didn't get to talk about the otter mittens!) So if you're curious, make sure to check out the Easy Weaving with Little Looms Spring 2023 issue.
Happy Weaving!
Christina
PS. If you want to learn new techqniues on how to incorporate texture into your weaving as a design element, make sure to check out Sarah Neubert's class Textural Weaving, just one of many excellent small-loom based classes at our upcoming Weave Together with Handwoven retreat. You can find more information on the retreat including classes here.