We are almost at the end of September, and that means Thanksgiving will be here before you know it (This is especially true for our Canadian readers!). Fortunately, if you want to weave up something for your table or as a host gift if you're celebrating away from home, we've got you covered. There's still plenty of time to weave something wonderful. If you need help wading through the past issues, here are a few suggestions of projects I think would be great for celebrating Thanksgiving.
Whether you're hosting dinner for a crowd or just your immediate family, having some special table settings can make the day even more special. When I think "autumn runners," my first thought is Deborah Shelmidine's Autumn Leaves Runner from Fall 2023. This pin-loom runner with just a hint of embroidery will make your table feel appropriately festive, with the bonus of looking good all season long.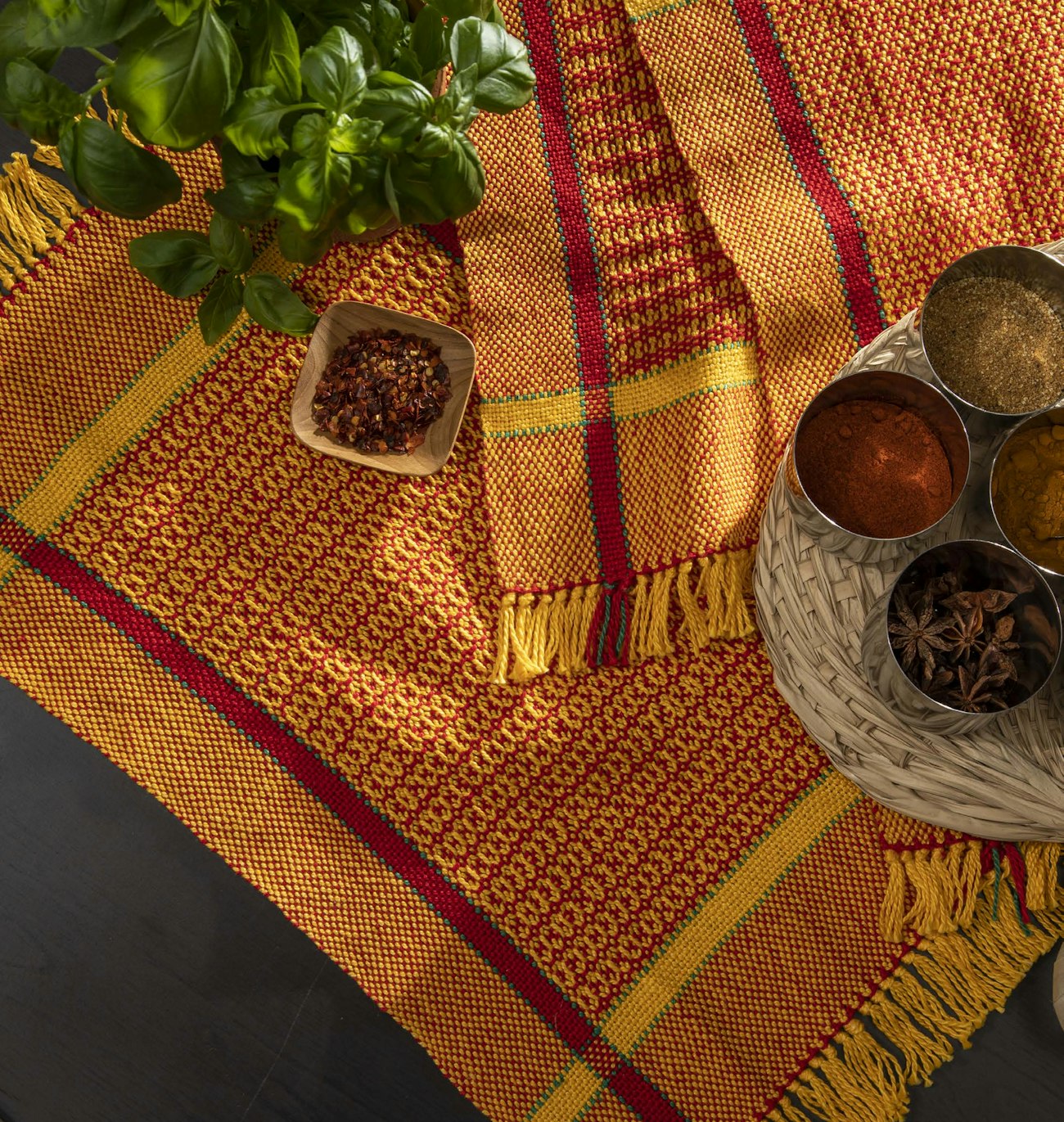 Spice up your holiday table with the Turmeric and Chili Placemats by Anu Bahtia.
For rigid-heddle weavers, Anu Bhatia's Tumeric and Chili Placemats from the Summer 2023 issue are also showstoppers. Each of the three placemats uses a different pick-up pattern to create a set that coordinates without matching perfectly. Weave them as written or pick your favorite pattern and make as many as you need. You could also easily manipulate the pattern to weave up a runner if you prefer. Whatever you choose, it will look stunning.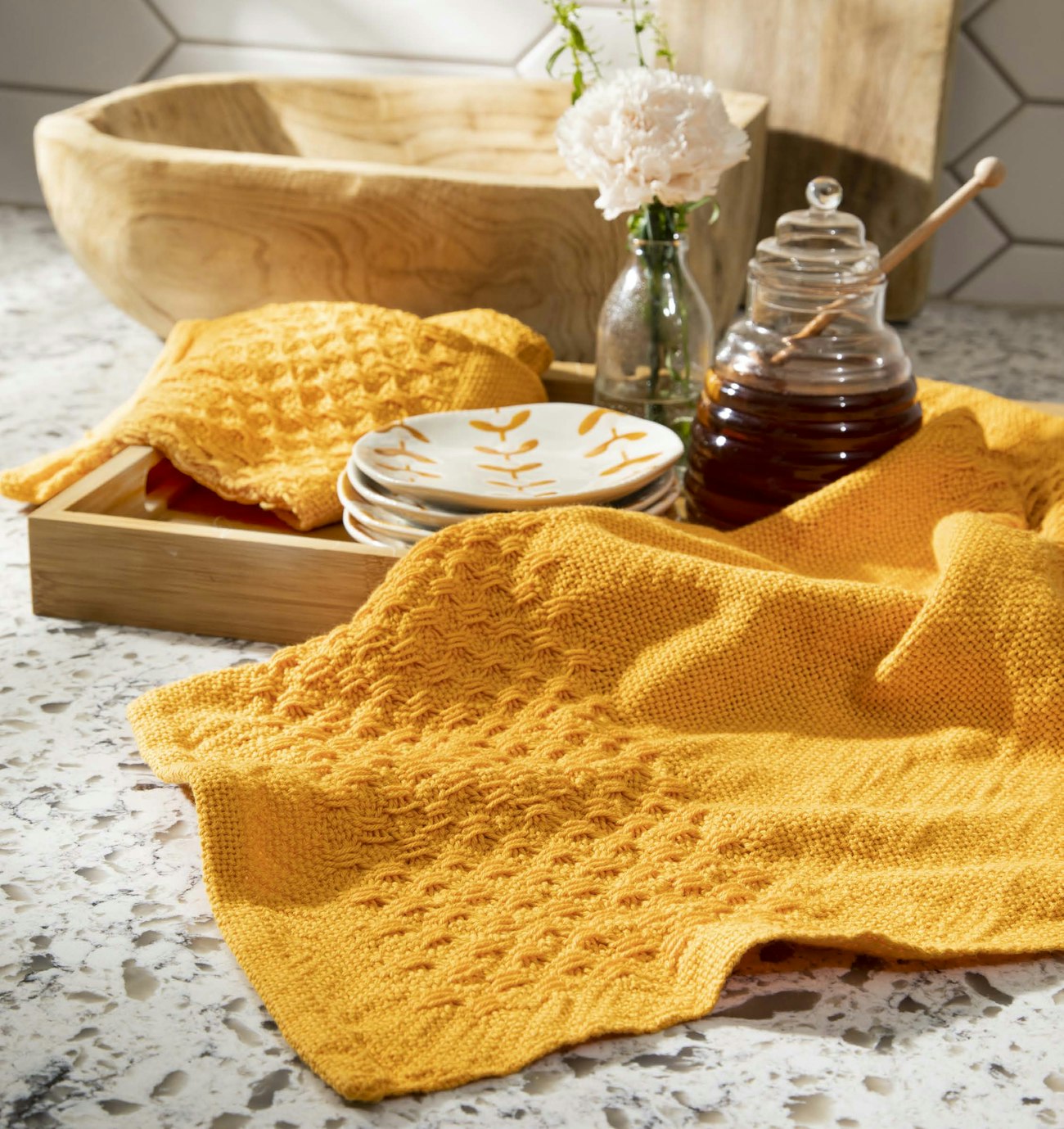 The Sweet Honey Towels by Yvonne Ellsworth make a beautiful and bright host gift.
Host gifts, in my mind, should be useful and beautiful and, ideally, go well with consumable add-ons such as a bottle of something nice to drink or some nibbles. Given that, the Sweet Honey Towels by Yvonne Ellsworth, also from Summer 2023, immediately come to mind. These towels are a gorgeous color of gold, perfect for an autumn gift, and have just a bit of pick-up to create the honeycomb section of each towel. Pair these with a jar of local honey, and you have a sweet gift most any host would appreciate.
The Bright Morning Mug Rugs by Hazel Spencer from the Spring 2022 issue also make an excellent host gift. Woven on a pin loom, these cheery mug rugs are beautiful as written or with any other color swapped in for the red. Weave them to match your host's décor and pair them with a bag of good coffee beans or some nice loose-leaf tea.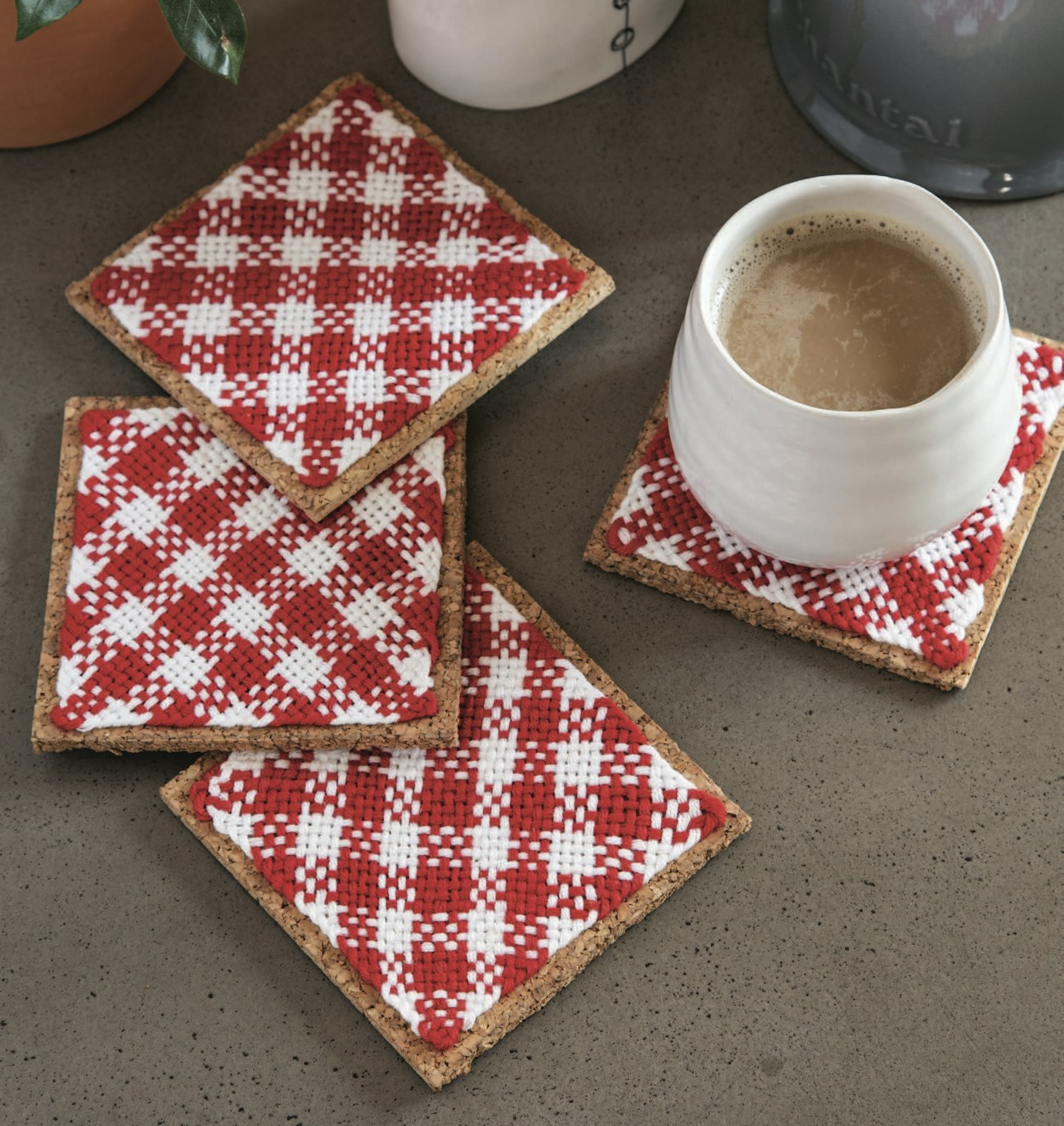 Bring some extra cheer to your host with these Bright Morning Mug Rugs by Hazel Spencer.
I could go on and on—so many projects from issues past would make great projects for decorating your home or giving as host gifts. Hopefully, the ones I've listed today will give you a good starting point to weave something wonderful.
Happy Weaving!
Christina