So you've bought yourself a pin loom—now what? Once you've figured out how to weave on one, what do you do with your pieces of fabric? Do you really need to weave dozens before you can do anything? Well, I am here give you some ideas about what to do with your first few (emphasis on few) pieces of pin-loom-woven fabric. Most of these ideas will work for either square or hexagon loom-woven pieces.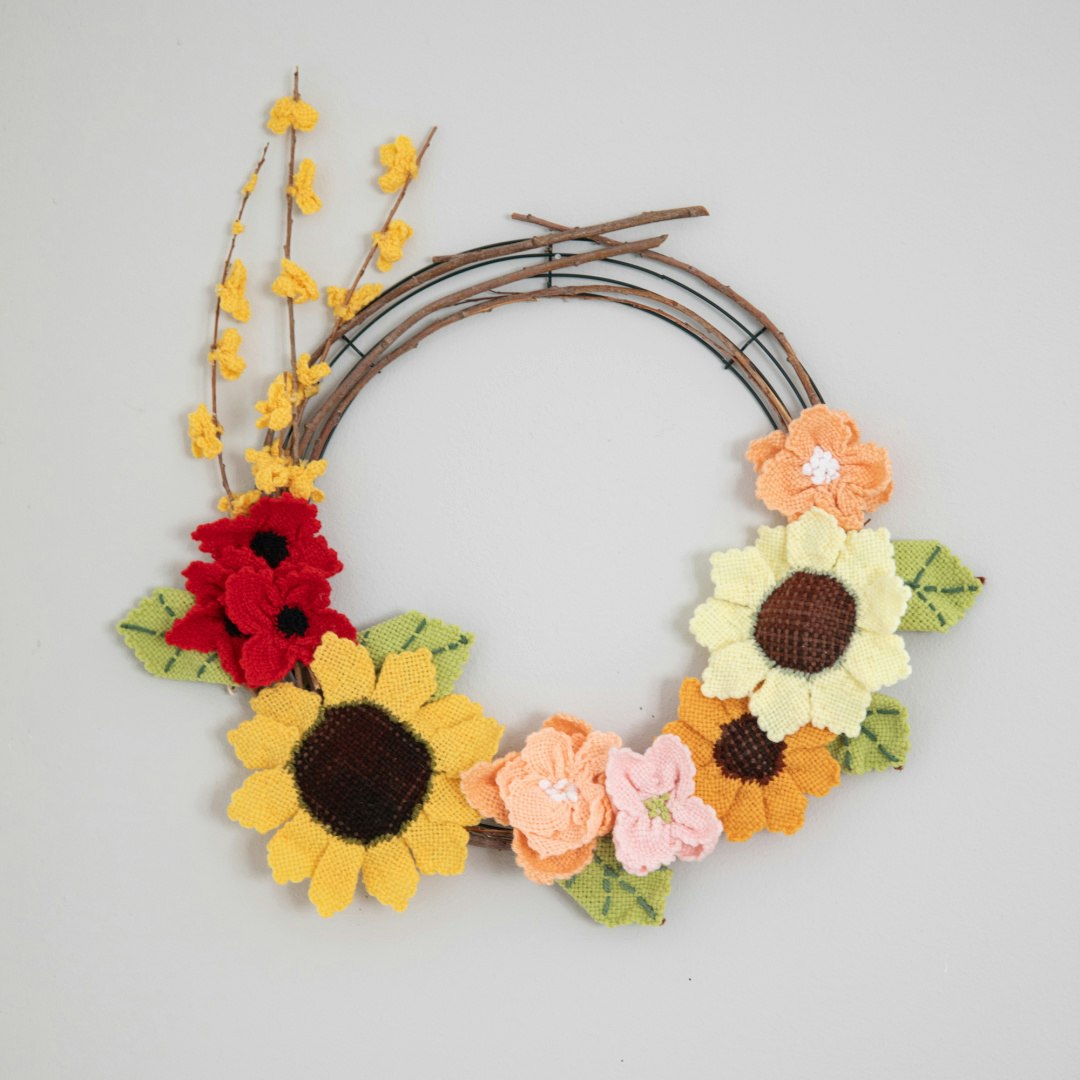 For her Spring into Summer Wreath, Margaret Stump made most of her flowers and leaves with just 1 or 2 pin-loom squares. Photo credit: Matt Graves
ONE
You might believe that a single piece of pin-loom fabric is worthless. Nay, I say! So long as it's large enough, you can turn that piece into a mug rug, as Hazel Spencer did in her checkered Bright Morning Mug Rugs (shown at top) from the Spring 2022 issue of Easy Weaving with Little Looms. Use it as is or, if you want to fancy it up a bit, add some embroidery or cross stitch. (Pro-tip: if you can do this step on the loom, it keeps the fabric at tension like an embroidery hoop.) You can also add crochet or knit trim along the edges. One pin-loom piece can also be used to make a leaf or a small flower. In Margaret Stump's gorgeous Spring into Summer Wreath, also from the Spring 2022 Easy Weaving with Little Looms, all the leaves and several of the flowers are made from just one pin-loom square.
If you have 2 pin-loom pieces, you can stitch them together, stuff them, and maybe add a decorative trim as Angela Tong did in her project above. Photo credit: Joe Coca
TWO
If you have 2 pin-loom woven pieces you can make more complex, layered flowers. My pin-loom Flower Fascinator from the 2016 issue, as well as the previously mentioned wreath by Margaret Stump, uses this technique. You can weave this adorable pea pod, from Deb Bagley's Market Vegetables project from the 2018 issue (the broccoli also requires only 2 squares). I wove a pea pod for my children's play kitchen, but I think were I to do it again, I'd definitely stitch cute little faces on the peas. (Ooh, Valentine's Day idea!) Other ideas are a pin cushion, like the one shown above by Angela Tong from the 2016 issue.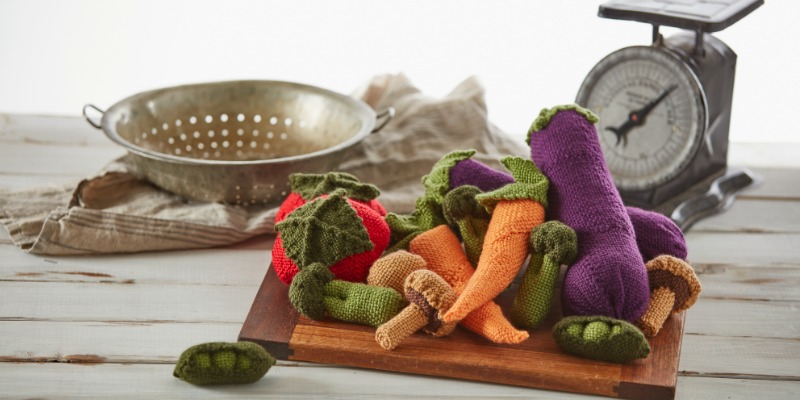 THREE
Once you get to 3 pin-loom pieces, even more doors open! When I wove my little orange pumpkin last year, it took only 3 pin-loom squares to make the base, which I'd argue is the most important part of the pumpkin. I could have easily used felt or a real stick for the stem and ignored the leaf altogether. If you wanted to weave Susan E. Horton's Magnolia Ornaments, those require just 3 pieces (and you can find the free pattern here). Going back to Deb Bagley's Market Vegetables, you could also weave a mushroom. (I didn't think of it back then, but looking at it now, I bet I could use this pattern to make a VERY cute classic red-and-white toadstool to go with my holiday décor.)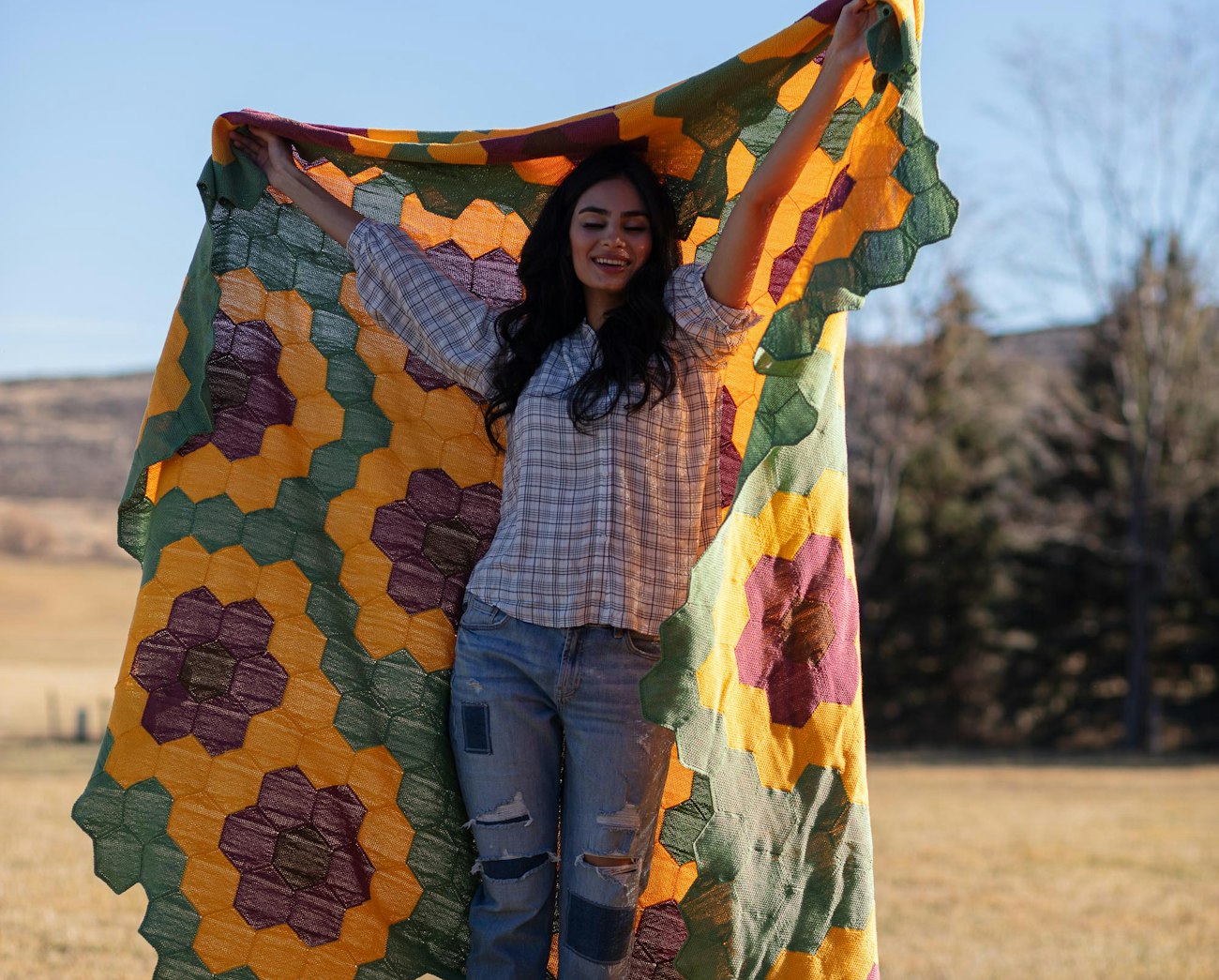 Gabi van Tassell's Indian Blanket Flower Afghan. Photo credit: George Boe*
A FEW MORE WORDS
There you have it! Project ideas for if you want to weave only 1, 2, or 3 pin-loom pieces. Of course, this is only scratching the surface—I didn't include the projects we've had for larger triangle pin looms that need only 1 or 2 pieces. It's a good reminder that while a pin-loom afghan is very impressive (looking at you, Gabi van Tassell!), there is so much you can make between 1 single piece of fabric and the more than 300 pieces needed to weave Gabi's simply stunning Indian Blanket Flower Afghan from the Summer 2020 issue—and all those projects have value. So don't worry if you're not ready to do something big; you can still do something beautiful.
Happy Weaving!
Christina