Now that the weather is getting chilly again, more than a few of us are probably reaching for that old jar of sourdough starter in the back of the fridge to start baking again. After so many readers commented that they enjoyed Laura Demuth's 8-shaft bread bag (as well as our instructions on how to weave it on 4-shafts), we decided to ask rigid-heddle weaver extraordinaire Angela Tong to weave up her own version. In this article, she describes her design process and some of the basic measurements. You can find the full weaving and sewing instructions for the bread bag in Easy Weaving with Little Looms Holiday 2020.
—Christina
Bread bags are great for preserving the crust of freshly baked sourdough loaves. My friend Rose gave me a plain cotton bread bag a few years ago even before I started baking sourdough bread this year. I found it so handy for my own fresh-baked bread. After my loaf cools, my daughters and I excitedly cut into it and sample slices with plenty of butter. I can keep that fresh-baked texture of the leftover loaf by storing it in the cotton bread bag. As a weaver, I thought it would be fun to weave a decorative bread bag for myself and for my fellow sourdough bread–baking friends.
I was inspired by Laura Demuth's Bread Bag woven on an 8-shaft loom to weave my own on a rigid-heddle loom. The beauty of a rigid-heddle loom is its simplicity. It's a snap to warp the loom and start weaving quickly, so I wanted to keep the whole process similarly easy and simple.
Laura wove her 8-shaft twill pattern in a tubular doubleweave. I wanted to use only 1 heddle, which meant weaving the bag flat and sewing. I also knew I wanted simple patterning in my cloth. As a rigid-heddle weaver, I love playing with plain weave and textures, and by using a cotton slub yarn such as Mallo by Gist Yarn & Fiber, I was able to get a lovely patterned texture because the yarn is thick-and-thin.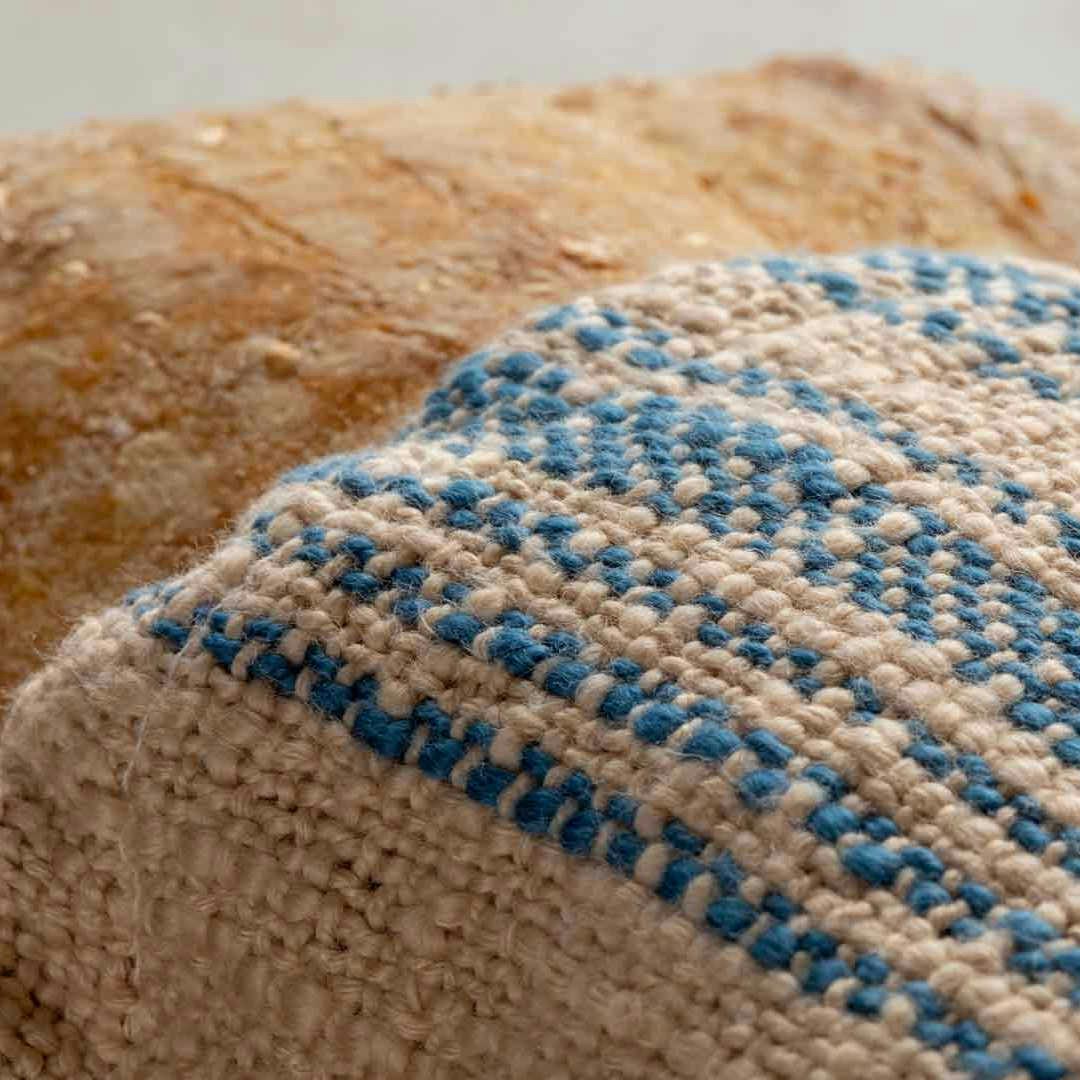 Before I got too far into the project, I wove a small sample and washed and dried it. From the sample, I measured the shrinkage and determined I needed a sett of 12 ends per inch and a 15" heddle. I based my calculations for the warp width and length by measuring the bread bag Rose gave me. Then I doubled it so I would warp once and weave 2 bags—this ended up being 174 warp ends 100" long.
I wove two lengths of cloth. After weaving the first one in the main color, I used the contrast stripe color for the second bag. After I took the cloth off the loom, I machine washed it and dried it flat. I cut apart the two lengths of cloth. I sewed the casings first, and then I folded the cloth in half and sewed up the sides to complete the bag.
Don't be daunted if you are not adept with a sewing machine. It takes only a few simple seams to sew up the bag. Rigid-heddle weavers, I hope you will try weaving your own bread bag or weave one for a bread baker in your life.